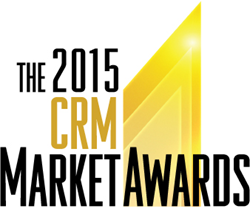 This year, the industry has witnessed some impressive developments
New York, NY (PRWEB) August 07, 2015
CRM magazine is pleased to announce the recipients of this year's CRM Market Awards in its August 2015 issue. The 14th annual CRM Market Awards honor the vendors, client companies, and individuals that enhance customer experiences through the sophisticated use of people, processes, technologies, and knowledge.
To keep track of all of these developments over the past year, our CRM Market Awards evaluates new technologies and upgrades from established and emerging industry vendors, CRM technology deployments, and significant contributions from individuals in the industry.
In total, the 2015 CRM Market Awards hand out 70 honors. Of those, 54 are CRM Market Leader awards, which are delivered across nine industry categories. Each category recognizes one Market Winner, denoting the company receiving the highest score compared with its peers; four CRM Market Leaders; and a "One to Watch." Additionally, CRM magazine bestows six individuals with our Influential Leader award, six exceptionally innovative companies with our Rising Star award, and four customer companies with our CRM Elite award for their CRM technology deployments.
The CRM Market Awards are given to companies that have performed at the highest level, shaping the industry and pushing it forward.
"CRM magazine is happy to recognize CRM excellence in our 2015 CRM Market Awards. This year, the industry has witnessed some impressive developments, including more integrated and powerful CRM suites, new sophisticated social and mobile marketing solutions, valuable tie-ins to wearable devices, and more," said David Myron, CRM magazine's editorial director.
CRM Market Leader Awards
Recipients of the CRM Market Leader Awards were determined through an extensive process and proprietary rating formula that polls industry analysts for product and functionality assessments, company direction, and customer satisfaction. Product and services costs and financial and corporate information are also factored into overall scores.
Recipients of the 2015 CRM Market Awards are listed below in their respective categories (leaders in each category are listed in alphabetical order):
Enterprise CRM Suite

Winner: Microsoft
Leaders: NetSuite, Oracle, Salesforce.com, SAP
One to Watch: Infor
Midmarket CRM Suite
Winner: Microsoft
Leaders: bpm'online, NetSuite, Salesforce.com, SugarCRM
One to Watch: Oracle
Small-Business CRM Suite
Winner: Microsoft
Leaders: HubSpot, Infusionsoft, Salesforce.com, Zoho
One to Watch: SugarCRM
Sales Force Automation
Winner: Microsoft
Leaders: bpm'online, Oracle, Salesforce.com, Zoho
One to Watch: SugarCRM
Incentive Management
Winner: Xactly
Leaders: Callidus Software, IBM's Varicent, NICE Systems, Synygy
One to Watch: VUE Software
Marketing Solutions
Winner: Salesforce.com
Leaders: Adobe, IBM, Oracle, Teradata
One to Watch: Marketo
Business Intelligence
Winner: Teradata
Leaders: IBM, Oracle, QlikTech, SAS Institute
One to Watch: Infor
Data Quality
Winner: Informatica
Leaders: Experian, IBM, Pitney Bowes, SAS Institute
One to Watch: Trillium Software
Consultancies

Winner: Appirio
Leaders: Capgemini, Ernst & Young, Hitachi Consulting/Solutions groups, IBM Global Business Services
One to Watch: Cognizant
CRM magazine also named six Rising Stars:
Conversica simplifies lead follow-ups and conversions.
IBM brings Commerce to social media, with help from Twitter and Facebook.
PROS packages CPQs for the sales force.
Sprinklr provides a panacea for social relationship management.
Tealium creates customized shopping experiences across a variety of channels.
Teradata helps enterprises leverage the power of Big Data.
This year, four customer companies won CRM's Elite award for their customer CRM technology deployments:
3 Day Blinds deploys Marketo's marketing automation and Turn's advertising platform to pinpoint new customers.
Concur leverages Infer's predictive lead scoring to close more deals more quickly.
PERQ accelerates its conversion rate by 500 percent with Salesvue.
Stryker uses the Adobe Digital Publishing Suite to cut down the cost and production time of marketing content.
The 2015 CRM Market Awards have been published in the August 2015 issue of CRM magazine—available in print and in digital NXTBook format. The awards package is also available online at http://www.destinationcrm.com/Issue/5484-August-2015.htm.
About CRM Magazine
CRM magazine is the leading publication of the customer relationship management industry, covering sales, marketing, and customer service strategies. The magazine also produces the annual CRM Evolution conference. Each of these properties is designed to serve customer-centric business initiatives and leaders who recognize CRM as a key strategy for creating enhanced customer value in any industry. For more information about the magazine, its editorial calendar, or CRM in general, please visit http://www.destinationCRM.com. The monthly magazine and the destinationCRM.com Web site are properties of CRM Media, a division of Information Today, Inc.