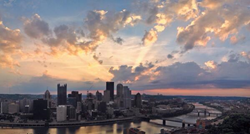 Pittsburgh is growing quickly and CRM manager is thrilled to be part of that expansion. Pittsburgh was recently voted one of the top places to live in the US and is quickly establishing itself as a hub for business and industry growth
Philadelphia, PA (PRWEB) June 04, 2014
CRM manager, LLC a leading salesforce.com implementation, integration, training and consulting partner announced today the opening of a new office in Pittsburgh, PA.
In response to its rapidly growing customer base in the Pittsburgh area, CRM manager has opened a sales and client services office in Pittsburgh to provide a local presence and enhance the personal touch CRM manager delivers for each engagement. Additionally, the Pittsburgh office will be home to their expanding in house development team.
Andy Atkins, CEO and Founder of CRM manager, is excited to open an office in Pittsburgh saying, "Pittsburgh is growing quickly and CRM manager is thrilled to be part of that expansion. Pittsburgh was recently voted one of the top places to live in the US and is quickly establishing itself as a hub for business and industry growth."
The Pittsburgh office is located at 500 Grant Street,Suite 2900, Pittsburgh, PA. CRM manager is pleased with the new location and the opportunity to continue to expand while building on its reputation for delivering expert cloud based solutions.
About CRM manager
CRM manager,LLC is among a handful of salesforce.com portfolio partners worldwide. Founded in 2006, CRM manager, LLC has completed 800+ implementations across many industries. As a salesforce.com portfolio company, we work closely with Salesforce to meet integration needs delivering services to customers nationwide with office in Philadelphia, New York City and Pittsburgh. CRM manager, LLC is privately held, and investors include salesforce.com. For additional information visit our website