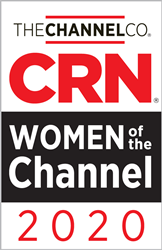 Neha exemplifies what IRONSCALES stands for: hard work, collaboration, creativity and, of course, commitment to our channel partners.
TEL AVIV, Israel and ATLANTA (PRWEB) May 12, 2020
IRONSCALES, the pioneer of self-learning email security, today announced that CRN, a brand of The Channel Company, has named the company's director of channel marketing, Neha Verma, to its prestigious 2020 Women in the Channel list.
Each year, CRN publishes its Women of the Channel project, recognizing female executives for their accomplishments over the past year and the far-reaching impact they are having on the technology industry going forward. The leaders on this list are from all areas of the IT channel ecosystem, representing technology suppliers, distributors, solution providers and other IT organizations. Each honoree is recognized for her contributions to channel advocacy, channel growth and visionary leadership.
"Neha exemplifies what IRONSCALES stands for: hard work, collaboration, creativity and, of course, commitment to our channel partners," said Eyal Benishti, founder and CEO, IRONSCALES. "Our partners' success is our success and we're dedicated to continually improving and innovating our channel operations to provide a competitive advantage to businesses of all sizes as they seek to protect their emails from all types of advanced phishing attacks."
Verma is a results-driven, B2B technology marketing executive with a track record of success bringing software solutions to global stakeholders and the channel market. Prior to IRONSCALES, Verma led the marketing team at Core Security and further kick-started the channel and vertical marketing programs at SecureAuth. Verma earned her MBA from Clemson University and majored in economics at Victoria University of Wellington in New Zealand.
"CRN's 2020 Women of the Channel list recognizes an accomplished group of influential women leaders whose strategic vision and unique achievements accelerate channel growth through cultivated partnerships, innovative thought leadership, and unwavering dedication to the IT channel," said Bob Skelley, CEO of The Channel Company. "We are proud to honor them for their accomplishments and contributions to driving channel success."
The 2020 Women of the Channel list will be featured in CRN® Magazine on June 8 and online at http://www.CRN.com/WOTC.
The IRONSCALES partner program advantage
IRONSCALES' partner program empowers resellers, distributors, MSPs and MSSPs with competitive sales margins, pre-qualified leads, product sales trainings, jump-start margins and special spiffs, among other benefits. For both its partners and their customers, IRONSCALES provides a comprehensive, integrated email security platform that automates and streamlines phishing attack discovery, investigation, incident response and remediation.
Additionally, IRONSCALES gives end-users and security professionals the right training, tools, and intelligence – with one-click resolution from a single platform – to hunt, log, alert, analyze and remediate phishing attacks. To do so, IRONSCALES learns how both users and attackers behave over time to provide constant innovation, giving everyone real-time visibility and real-time control to detect and stop phishing attacks of all types. This decentralized approach makes anti-phishing effortless and seamless, providing security professionals and end users with full protection against all types of phishing threats.
For more information about IRONSCALES, visit http://www.ironscales.com or follow @ironscales on Twitter and LinkedIn.
About IRONSCALES
IRONSCALES is the future of phishing protection, incubated inside the world's top venture program for cybersecurity and founded by alumni of the Israeli Defense Forces' elite Intelligence Technology unit. We offer security professionals and end users an AI-driven, self-learning email security platform that provides a comprehensive solution to stop tomorrow's phishing attacks today. Using the world's most decentralized threat protection network, our platform accelerates the prevention, detection and remediation of phishing attacks already inside your email with threat removal times in seconds, not minutes or hours. We give organizations of all sizes complete anti-phishing protection against any type of phishing attack, right now. Visit http://www.ironscales.com to learn more about The Power of Now.
About The Channel Company
The Channel Company enables breakthrough IT channel performance with our dominant media, engaging events, expert consulting and education, and innovative marketing services and platforms. As the channel catalyst, we connect and empower technology suppliers, solution providers, and end users. Backed by more than 30 years of unequalled channel experience, we draw from our deep knowledge to envision innovative new solutions for ever-evolving challenges in the technology marketplace. http://www.thechannelcompany.com