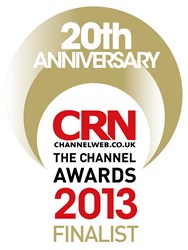 The CRN Channel Awards are the most sought-after awards in the IT industry and hotly contested so N-vest is honoured to make the shortlist for Channel Service Provider of the Year. - Pip Thomas, N-vest
London, UK (PRWEB UK) 25 September 2013
N-vest, a leading provider of training services to the AV and IT industries, has been named as a finalist in Channel Service Provider of the Year category of the prestigious CRN Channel Awards.
Widely recognised as the Oscars of the IT channel, the CRN Channel Awards represent the pinnacle of achievement in the UK market, rewarding outstanding performance in the IT channel.
Director of N-vest Pip Thomas comments: "The CRN Channel Awards are the most sought-after awards in the IT industry and hotly contested, so N-vest is honoured to make the shortlist for Channel Service Provider of the Year and to win recognition for the value of our training business to the UK channel."
"The last 12 months has seen N-vest business grow by a massive 68% as increasing numbers of resellers and integrators look to build user training into their solutions and tenders, developing new profitable streams of service-based revenue," Thomas adds. "And we have been able to meet demand through expansion funded by our new owners, the Inbay Group, an MSP and provider of white label partner services to the channel, who acquired us in February 2012."
Our customers now include all shapes and sizes of reseller and integrator across the IT, AV and office supplies channels, from start-ups and niche specialists to international multi-discipline providers, in addition to leading distributors and vendors.
One of the N-vest partners to support N-vest's bid for the CRN award was Logicalis, a leading provider of IT solutions and managed services with a breadth of knowledge and expertise in communications and collaboration.
Toby Gold, Business Unit Director, Logicalis UK, says: "Partnering with N-vest enables Logicalis to provide our customers with best-in-class face-to-face training and online video support tools that drive take up and use of our ImmersiV cloud-based, pay-per-use, video services."
"It is essential that the quality of user training matches the quality of the Logicalis ImmersiV service so we opted to outsource to the experts. Working with N-vest also frees us to focus on our core business, safe in the knowledge that N-vest is on hand to meet our ImmersiV training needs."
N-vest trains users on behalf of resellers, to use technology effectively, including digital signage, interactive collaboration tools including interactive whiteboards and touchscreens, video conferencing and VoIP fixed line telecoms systems and a range of other IT products.
The N-vest team of expert trainers create bespoke training tailored to each customer, which can take the form of on-site training, assisted online programmes and training videos.