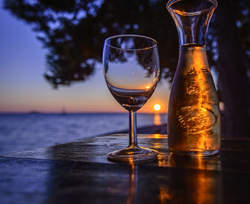 In addition to being the land of more than a thousand islands, sapphire waters, and ancient towns, Croatia is also a gourmet and wine paradise.
New York, NY (PRWEB) February 27, 2015
Croatia has been the rising star of the travel scene in the last few years, but the 2015 predictions gave a different twist to this Mediterranean gem naming it among the best wine travel regions. In order to discover the wine vocation of this country, Select Croatia (http://selectcroatia.com), the web-based boutique travel company, presents its food and wine offer featuring the Zinfandel Experience vacation package, along with other food and wine tours a la carte.
Croatia was awarded first place in the Top Emerging Destinations of the 2015 Virtuoso Luxe Report but the new title that this country can boast in 2015 comes from the wine world. In fact, Croatia makes both the Condé Nast Traveler list of the 10 Undiscovered Wine Regions to Explore in 2015 and Wine Enthusiast's list of 10 Best Wine Travel Destinations 2015, to name but a few. Wine lovers and travelers interested in discovering and experiencing Croatian food and wine can rely on Select Croatia's exclusive offers:

The Zinfandel Experience: Discover the homeland of Zinfandel in this 7-night vacation package that includes the cities of Dubrovnik, Split, and Korcula and includes wine tastings, winery visits, gourmet experiences, and guided tours of the cities.
Oysters & Wines of Mali Ston Bay and Magical Dubrovnik: A luxurious escape to a private island to enjoy a oysters tasting paired with Croatian wines.
Wines of Dalmatia and Krka Waterfalls: Departing from Split, this 7-hour tour includes a visit to the Skradin and Krka waterfalls, as well as a wine pairing meal at Pelegrini, one of the best Croatian restaurants, located in Sibenik.
"As a Croatian I have always treasured the food and wine of my country and encouraged my clients to include our wine tasting experiences in their itineraries," says Maja Gudelj, Director of Croatia and Mediterranean Yacht Charters. "In addition to being the land of more than a thousand islands, sapphire waters, and ancient towns, Croatia is also a gourmet and wine paradise."
About Select Italy
Select Italy® is The Ultimate Source for Travel to Italy® and offers a wide array of superior Italian travel products and services, including customized itineraries, state-of-the-art tours and packages, wedding/honeymoon trips, unique culinary classes, a complete pre-departure ticketing service for museums and musical events, private guided services, yacht charters, transportation, hotel reservations, villa bookings and more. Through a vast network of suppliers and cultural contacts, anything and everything you need for optimum travel to Italy is possible with Select Italy. Based in Chicago with an office in New York and Shanghai and support staff in Italy, the company has expanded its offerings and travel services to the Balkans with the launch of Select Croatia®.