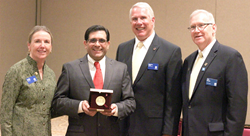 As the impact of The 12 Pillars book spreads globally and the importance of this work is recognized, I hope Adil Dalal will be recognized as the Guru of Leadership. ~ William Scherkenbach
Austin, TX (PRWEB) May 15, 2015
Adil F. Dalal was presented with The 2015 Crosby Medal by American Society of Quality on May 3rd, 2015 for authoring 'The 12 Pillars of Project Excellence: A Lean Approach to Improving Project Results'. The medal is named after the quality and business philosophy guru and legend Philip B. Crosby, whose book 'Quality is Free' launched the zero defects philosophy and is credited for the quality revolution world-wide for organizations seeking to achieve greater efficiency, reliability and profitability. The award ceremony was held at the Gaylord Opryland Resort and Conference Center in Nashville, TN, at the ASQ's Annual World Conference.
ASQ, a leading authority on global quality, recognizes recipients for their innovative contributions and exemplary achievements that are representative of the ideas and tools that make our world work better. The medal was presented to Dalal by ASQ Chair, Cecilia Kimberlin, Awards Board Chair, Mike Nichols, and past Chair, Stephen Hacker, for advancing Crosby's legacy by authoring a book which focuses on leadership and organizational culture as keys to successful project leadership. The book provides a formula, case studies and cultural assessments to practically achieve 'Zero Defects' outcomes in projects, programs, thus leading to overall operational excellence in organizations world-wide.
Dalal's book is also the winner of the prestigious 2014 Shingo Research and Publication award, and the 2013 Axiom Business book medal. In addition, Dalal is also the recipient of the Global award for outstanding Contribution to Quality and Leadership. This success was predicted by some initial reviewers of this 700-page book. The Foreword of this book includes prophetic words by William Scherkenbach, a protege of Dr. Deming and a Deming medal winner, who wrote, "Adil Dalal's The 12 Pillars of Project Excellence can be described in one word - 'Enlightening!' Just as Deming's concepts have universal applications far beyond the field of quality; Dalal's concepts will reach far beyond the field of project management. As the impact of this book spreads globally and the importance of this work is recognized, I hope Adil Dalal will be recognized as the Guru of Leadership". This book was recently adopted as a Leadership Body of Knowledge by the Human Development & Leadership division of ASQ.
Dalal is the CEO of Pinnacle Process Solutions, Intl®, LLC, past-Chair of ASQ's Human Development & Leadership division, and Co-founder and Chairman of the Board for Patriots4Our Heroes, a non-profit serving veterans with PTS and TBI. He is also a distinguished global keynote speaker and radio show host. Dalal has also authored 'A Legacy Driven Life', co-authored ASQ's 'Lean Handbook' and 'Changing Our World'. Dalal is currently pursuing a PhD in Performance Psychology from GCU.