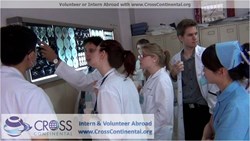 With the help of Cross-Continental, I have been able to travel to a completely foreign land and immerse myself in a fascinating new culture, while simultaneously fulfilling my desire to develop my understanding of medicine.
Vancouver, BC (PRWEB) September 17, 2013
Medical projects abroad provide healthcare inclined individuals the opportunity to gain valuable experience and develop important skills in their chosen field, with an international twist. Recent interns and volunteers through CrossContinental.org, ranging from pre-med students to certified healthcare professionals, report greater fulfillment and personal growth after joining global healthcare projects around the world.
Without a doubt, international internships and volunteer abroad programs offer the opportunity to explore other cultures while cultivating hands-on education. In the attached video (http://youtu.be/MoKX-0R0Y0Y), healthcare professionals and medical students from around the world expressed their first hand experience while doing healthcare volunteer work and medical internships abroad.
Radiological technician Miranda Vosselman from the Netherlands has over 20 years of diagnostic imaging experience in the healthcare field in Europe. She volunteered to assist in the ultrasound and x-ray departments at a Children's hospital in Nepal. "It's very busy in the morning. There are about 20-30 patients every morning," states Miranda."The colleagues here are very nice to work with."
Christin Rebarz, an experienced nurse from Germany, did both microfinance and healthcare work in Africa. Christin reports that volunteering at the Kenyan hospital has really opened her eyes. According to Christin, "The hospitals back home [in Germany] have everything at their disposal and can provide excellent care above and beyond what is necessary, while in Kenya patients only get the bare minimum treatment, if they get any at all." Christin shares, "The spirit with which the hospital staff make the best of what they've got, and the passion with which they care for the people, is truly uplifting and inspiring."
For high school and pre-med students, healthcare programs provide the opportunity to earn coveted volunteer hours as well as essential interactions with highly trained professionals and actual patients. Geneviève Chouinard, the informal leader of a group of Canadian pre-med students from the University of Montreal, sings the praises of their 3-week medical volunteer trip to Asia. "We had a wonderful time in Chengde, especially with our host families! We think there is no other way to really understand the local people and have a unique experience." Chouinard continues, "We enjoyed the work at the hospital, and we met wonderful people and learned a lot about medicine in China."
Hayli Worthington, an American health education student from Idaho State University, participated in a medical internship in Latin America for 2 months. She declares gladly, "I've been happy with my internship through Cross-Continental. It's difficult for me to choose the most rewarding thing I experienced during my adventure because I had so many touching moments". During Hayli's intern abroad experience, she felt privileged to assist doctors in three births. Of the three, the most exciting birth was from a fourteen year old mother with a seven month old premature baby. "It was a very intense and high risk situation, but in the end the child lived." Hayli reports, "I feel extremely thankful that I was allowed to be a part of such a big adventure."
Japanese intern Mika Tomita, just 18 years old and recently out of high school, dreams of having a career in medicine, and her six months in Kenya have solidified that dream. Mika shares, "Despite my young age and lack of essentially any medical knowledge, the staff at the hospital in Keroka have been generous enough to take a lot of time to explain every little step to me." Mika continues, "I was surprised that they even allowed me to assist with child birth and injections, but I'm glad that I'm being given the chance to advance earlier in a field that I soon hope to be a part of after my studies."
Mika summarizes, "With the help of Cross-Continental, I have been able to travel to a completely foreign land and immerse myself in a fascinating new culture, while simultaneously fulfilling my desire to develop my understanding of medicine."
Serving in the international medical community allows volunteers and interns to share their time and skills with unfortunate people in need, while receiving so much joy and fulfillment in return. Access free resources or plan a life-changing trip at http://www.CrossContinental.org.
About Cross-Continental Solutions:
Cross-Continental Solutions provides unique yet affordable volunteer abroad, intern abroad, cultural immersion, language study, and gap year programs. A large variety of work placement options are available such as: Teaching, Healthcare, Community Development, Business Coaching, HIV work, Care-giving, Orphanage Work, Journalism, Photography, Wildlife, Agriculture, Environmental Protection, Microfinance, Tourism, Marketing, and more. Programs are available at many locations around the world, including Africa, Asia, and Latin America. By living and working side by side with the local people, participants gain an exceptional cross-cultural experience and the opportunity to make a difference.