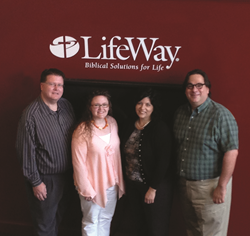 We've made some big changes that will enable us to really cater to our authors' individual needs and book goals.
Nashville, TN (PRWEB) June 23, 2014
As part of an overall strategy to better serve the unique goals of its authors, LifeWay Christian Resources is pleased to announce a new leadership team for CrossBooks, the self-publishing imprint of B&H Publishing Group. B&H has assembled a team with more than 70 years combined experience in book publishing and marketing, led by Paul Mikos. The new team includes director of book development and production Jennifer Day, director of acquisitions and author relations Bob Wallace, and director of marketing Deanna Nelson.
"We serve a diverse, sophisticated, and growing group of authors who are called by God to share their stories and advance the gospel. God has blessed us with a team of experienced publishing professionals with the skills and vision to help our authors answer that call," says Selma Wilson, president of B&H Publishing Group.
"We've made some big changes that will enable us to really cater to our authors' individual needs and book goals," says Mikos. In addition to the new leadership team, other changes include dedicated project teams of publishing experts, theologically-trained editors, and experienced marketing strategists to work one-on-one with each author. This new structure will allow CrossBooks to deliver a greater level of service and expertise to its authors.
"Our authors have given us some great feedback about the level of support they want when partnering with LifeWay to publish their book. We're excited about the changes we're making," says Mikos.
More enhancements will follow in this push by CrossBooks. Immediate plans include the unveiling of a refreshed brand and more user-friendly website, with a comprehensive list of publishing, distribution, and marketing services at the end of the month. According to Mikos, the new team has its sights on even more improvements to better serve its authors in the coming months. This will certainly be a brand to watch in 2015.
About CrossBooks
An imprint of B&H Publishing Group, CrossBooks offers a unique blend of traditional and self publishing. It serves a variety of Christian writers, from established authors to Christian leaders and first-time authors. As a ministry of LifeWay Christian Resources, CrossBooks is committed to unwavering principles of excellence and Christian faith. For additional information, please visit http://www.crossbooks.com.