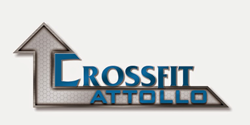 Now through the end of March new members who sign up for a three month contract will receive their fourth month half off.
Vancouver, WA (PRWEB) February 28, 2015
CrossFit Attollo is a CrossFit gym located in Vancouver Washington. This spring they are offering a special discount to new members. Now through the end of March new members who sign up for a three month contract will receive their fourth month half off.
Paying for each month individually would cost members $440. The three month contract is only $264, dropping the price down to $88 per month, and then the fourth month comes in at only $55. The special saves new members $121 over the four month period.
CrossFit Attollo offers various class opportunities including:
Daily WOD's
CrossFit for Women Classes
CrossFit for Home School Kids & Families Classes
One on one coaching
Owners Sam and Brooke Velazquez say their CrossFit Affiliate gym promotes self worth and personal growth.
"CrossFit Attollo is super excited to be a CrossFit Affiliate gym whose focus goes beyond the Workout of the Day aka (WOD'S)."
The Velazquezes say they have a commitment to the mutual loyalty and trust between themselves and their neighbors within the community. They explain that this feeling of belonging allows members the opportunity to grow and build their self-esteem.
"It's intentionally designed that each CrossFit Affiliate gym world wide provides similar but more importantly different atmospheres for each individual to find and have a place that fits not only their needs of health and fitness goals, but a sense of creating a community based family in a positive environment."
The Velazquezes believe that this sense of community is vital. Class sizes are limited to 5 to 10 people, giving members an opportunity to receive the coaching and teaching they need.
Another way to take advantage of the community at CrossFit Attollo is to participate in some of the many events that will take place to help members connect with each other.
"CrossFit Attollo will be having regular events and gatherings as a whole, but also allowing the opportunity to connect with those who are working out together to encourage and motivate each other."
CrossFit Attollo has partnered with Faith Rx'd and CrossFit Faith to help bring a message of Christ to the Vancouver, WA community. That being said, Sam and Brook Velazquez say they understand that each person has unique qualities, and that their nurturing environment is welcoming to people of any background.
The owners explain that the trainers at CrossFit Attollo focus on more then just fitness, they are also passionate about nutrition. They believe that by educating members on proper food choices for energy and recovery, they can assist them in obtaining faster results. All members have access to the base nutrition program and performance products. There are optional classes and workshops to those who want more in depth nutrition training.