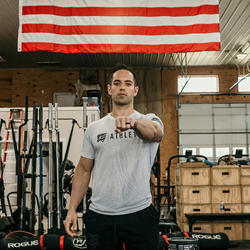 "I've always worn my wedding band when I'm working out. A few years ago I realized how dangerous wearing a metal band could be and switched to silicone. I've teamed up with Groove Life to promote an amazing anti-stretch silicone ring. It really is awesome!"
SPRING HILL, Tenn. (PRWEB) June 04, 2019
Rich Froning stays busy with his successful career as an American professional CrossFit athlete and is known for his achievements participating in the CrossFit Games, and as the owner the affiliate gym CrossFit Mayhem. Whether he is traveling to compete or playing with his 3 kids in his home gym in Tennessee, a world-class athlete needs a world-class ring.
That's why Groove Life is honored to team up with the four time winner of the "Fittest Man on Earth" to help spread the word about their NEW high-performance silicone wedding bands—made especially for athletes and adventurers who need a ring that won't stretch out and will withstand their rigorous lifestyle. This partnership takes both Groove Life and Rich Froning to the next level.
The NEW Mayhem ring, created with input from Froning, is created with Groove's exclusive Zeus Anti-Stretch™ technology. Zeus is the ultimate silicone ring—the King of all Rings, with three bands fused together into one. The inner band has breathable grooves and air ports to keep you dry. The inlaid Zeus Anti-Stretch™ band holds the ring's shape, keeping it from stretching out, while still breaking away safely if it gets caught. The outer band, with its distinct beveled edge profile, integrates both style and durability to create Groove's toughest ring to date.
Whether you're an athlete, adventurer, or just love to explore the great outdoors, this ring is for you. Wearing your hard, metal ring on the job–or at the gym–can be extremely uncomfortable and dangerous. Groove Rings are the active, silicone rings designed to solve these problems so you can push your limits, achieve your goals, and live life with less worry.
Whether he's at the gym or at home with the kids, Froning is dedicated to making every moment count.
"I've always worn my wedding band when I'm working out. A few years ago I realized how dangerous wearing a metal band could be and switched to silicone. But man, those rings you buy in bulk from Amazon really stretch out quickly. I couldn't stand it! I'm excited to announce I've teamed up with Groove Life to promote an amazing anti-stretch silicone ring. It really is awesome!"
Groove Mayhem Ring Specs:
*Zeus Anti-Stretch™ internal technology
*Low profile prevents snags
*Air ports allow fingers to breathe
*Recessed grooves provide increased airflow
*Liquid injected design gives a flawless finish
*Comfort fit inner arch and eased edge lessen skin contact
*Available in an array of fashion forward colors and classic neutrals for men and women
*Comes with a lifetime warranty
Born from need, Groove raises the bar on traditional silicone rings. Make a statement with your activewear. Visit groovelife.com to shop hundreds of Groove Ring designs. You'll find the only ring you need for your active lifestyle. Groove Rings can be purchased online or at select retailers nationwide.
About
Groove Life launched in 2016 with the release of their flagship product, the Groove Ring. Founder Peter Goodwin wanted to wear a ring that showed his commitment to his family while meeting the demands of his work as an Alaskan guide and wilderness lodge owner. His creation not only offers durability and functionality, but rugged good looks, as well. The company has since moved its headquarters to Tennessee and now offers other products, including the first breathable watch band.