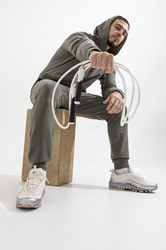 "Crossrope was the first brand of ropes I ever bought, so when it came time to do a collab, I went straight to the best in the game. These will be quality ropes to match your fitness goals, with some Vinny flare!" - Vinny G
RALEIGH, N.C. (PRWEB) January 17, 2023
Crossrope, creators of the award-winning interchangeable weighted jump rope system, are proud to announce the creation of an exclusive new jump rope collection with reality television star and digital influencer Vinny Guadagnino, AKA "Vinny G." Vinny Jumps features specially-designed handles and two new ropes co-designed by Crossrope and the star of Jersey Shore.
"I started jump roping during quarantine as a fitness hobby and quickly became obsessed," said Vinny, who also competed on Season 31 of Dancing with the Stars. "Like most people, Crossrope was the first brand of ropes I ever bought, so when it came time to do a collab, I went straight to the best in the game. These will be quality ropes to match your fitness goals, with some Vinny flare!"
The Vinny Jumps collection features custom Slim Handles, a custom Freestyle Rope, and an exclusive Beaded Rope - the first beaded rope ever debuted by Crossrope. The custom Slim Handles offer exceptional grip with a polyurethane surface and feature a custom repeated "VJ" pattern inspired by Italian fashion design. The handles are compatible with all Crossrope weighted ropes, but are recommended for use with ¼ lb and ½ lb ropes. The Vinny Jumps Beaded Rope features textured white plastic handles embossed with the "VJ" and Vinny Jumps logos. The lightweight feel and black and white beads make the Beaded Rope perfect for helping jumpers improve their coordination and rhythm. The Vinny Jumps Freestyle Rope is neon green with a textured black plastic handle embossed with the "VJ" and Vinny Jumps logos. It is ideal for experienced jumpers who want to challenge themselves and learn new tricks.
"We're thrilled to collaborate with Vinny to craft this exciting new collection of jump ropes," said Dave Hunt, Founder and CEO of Crossrope. "Vinny is an avid jumper and was very thoughtful in creating fun and challenging rope sets for jumpers of all experience levels. We think Crossrope fans and newcomers will love Vinny Jumps."
The exclusive Crossrope x Vinny Jumps collection will be available on January 17 and can be pre-ordered on the Crossrope website. Each piece of the collection can be purchased separately, and the custom Slim Handles can be purchased as part of a Vinny Jumps Fitness Set with Crossrope's ½ lb rope. Crossrope users can level up their fitness journey by downloading the Crossrope App to access over 2,000 workouts.
"Jumping is physically and mentally stimulating," said Vinny. "I get bored doing basic cardio, but with jumping, I get to sweat and learn a new skill at the same time. And you never know when that footwork will come in handy like it did for me on Dancing with the Stars!"
To learn more about the Crossrope x Vinny Jumps Collection, visit http://www.crossrope.com/pages/lp-vinny/. Media can also access photos here.
About Crossrope
Former Navy lieutenant commander Dave Hunt founded Crossrope in 2012 to compensate for a lack of high-quality, challenging but portable fitness solutions. Since his early days as a Naval Academy sprinter and high jumper, Dave had fallen in love with the simple, cardio-blasting efficiency of jumping speed rope. Dave wanted to give everyday heroes the freedom to pursue their fitness goals, anywhere, and on their own terms, by building a fitness experience that inspires people to exercise differently. The fast clip system allows one to quickly change between light and heavy ropes for a versatile workout. The Crossrope team is dedicated to bring the joy of jump rope fitness to all! We believe everyone deserves a fun and accessible workout, and are on a mission to inspire millions of people to experience a different way to get fit through jump rope fitness.
Crossrope's headquarters are based in Raleigh, NC. Crossrope is proud to host a Jump Rope Fitness Community on Facebook with over 97K jumpers who provide tips, support and inspiration to one another. Visit http://www.crossrope.com to learn more about Crossrope and follow us on Instagram @crossropejumpropes.