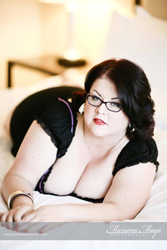 San Jose, CA (PRWEB) December 30, 2014
Chrystal Bougon, nationally-known outspoken advocate for plus-size women and the owner/founder of Curvy Girl Lingerie (http://www.CurvyGirlInc.com) in San Jose, CA, the only lingerie store in the nation for women sizes 12 to 32, has launched a campaign on crowdfunding site CrowdedReality.com to raise funds for a T.V. pilot about, and by, Curvy Girl Lingerie and the fabulous women who shop there.
In the crowdfunding video for the show, Chrystal explains her vision of the Curvy Girl Lingerie T.V. show and how she aims to show 'regular' women shopping for sexy undergarments, talking about sex, expressing body confidence and loving their curvaceous bodies.
"With almost 70% of Americans being plus-size, it's time we see and celebrate curvy women as positive role models with terrific self-esteem," explained Chrystal. "Most of the bodies seen on television, in magazines and in advertising average sizes 0-4, which is not at all representative of the vast majority of American women. Sexy is not a size, but an attitude."
This new reality television show will feature sexy, fun and empowering women who are unapologetic about being voluptuous and love to flaunt their curves at the only plus-size lingerie boutique in the country, Curvy Girl. The program will demonstrate how fulfilling life can be when you learn to love every part of yourself – including your sexy curves! In addition to being about sexy, fat and voluptuous women, it's created and edited by women who are curvy and proud of it, too!
Chrystal is an unabashed loud and proud fat advocate and has been featured on some of the biggest media outlets in the nation including CNN, The Huffington Post, FOX, HLN, Bethenny and more. Join her efforts to bring this revolutionary new television program to the airwaves by supporting and donating to her crowdfunding campaign. From Chrystal's unapologetic attitude about being a curvy woman to intimacy tips for plus-size couples, by watching this show you'll start to embrace yourself and take charge of your sex life! You'll see what life is like for fat chicks and how much they really can enjoy it with a healthy attitude.