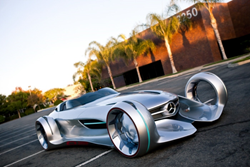 algorithmic triggers are utilized that alert pre-screened and "vetted" sponsors
Los Angeles, CA (PRWEB) December 29, 2014
Crowdedreality.com is hoping to take viewers for a ride with Mark TenEyck and Louie Dietz as they open their mobile fabrication lab making dreams come true. Their adventure initially began in Boyle Heights in 2013 when they were asked to mentor and assist the design, fabrication and manufacturing of a robot for the First Robotics Competition. Team 4964, hosted by the i.am.angel Foundation, founded by will.i.am, reached out for their assistance to compete in the national competition. While they had the funding, the team didn't have any design software, equipment or manufacturing expertise. Mark and Louie quickly realized the need for The Fab Lab to help students compete in competitions normally achievable by students in more affluent areas.
The debut show will feature an outstanding young man from southern California who was severely injured in a car accident 2 years ago leaving him a paraplegic. Andrew doesn't have use of his legs and limited use of his arms. His family has endured tremendous financial and personal hardships to support his recovery. He is an avid motor enthusiast; his father and brother are both mechanics and restore vintage vehicles as a hobby. He was inspired to get behind the wheel by a former race car driver Mike Bauer who lost his legs in a motorcycle accident 10 years ago and is able to race again due to modern technologies adapted to a track car. The Fab Lab team will be building Andrew a street legal circuit race car to compete in the March Southern, CA Road Race. The silver lining to the episode is Andrew will keep the car for everyday use and not have to rely on others for daily transportation to college.
CrowdedReality.com, the niche crowd funding platform, created by award winning producer Adryenn Ashley, offers show creators three ways to fund their show, through a system designed to reveal the reach of new shows, and to incite competition for the opportunity to sponsor or air each show. As Ashley explains, "Over the past year we have developed relationships with over 200 brands and in discussing sponsorship needs and wants, one topic kept repeating – they wanted to know, to quantify, the social reach potential. For every new show, that's always going to be just a best guess. Until now, algorithmic triggers are utilized that alert pre-screened and "vetted" sponsors; the site interacts with and introduces show-specific sponsors even before the funding cycle is complete.