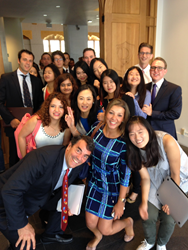 San Francisco, CA (PRWEB) September 04, 2014
Draper University, a program for entrepreneurs in the heart of Silicon Valley, is proud to announce that among its incoming Fall Class, five particularly innovative students are running crowdfunding campaigns to raise money for their tuition and travel expenses. The incoming students are a great example of the type of character the students who attend Draper University exude: smart, thought-provoking, ambitious, and above all, entrepreneurial.
Among the students who are running campaigns are three outstanding international students. Olya Prodaniuk, a female entrepreneur from Ukraine, is the founder of Hailcloud, a peer to peer platform for people to securely store their precious memories. Female entrepreneurs are already in the minority globally, and Olya is pushing boundaries by planning to attend Draper University. In addition to Olya, Louis Mikal from Lithuania is an engineer who is working on a platform to help people save money when grocery shopping. Lastly Edmilson Rodrigues from Brazil is crowdfunding on Brazilian platform Kickante and plans to launch his project, Dream Education, a social business that aims to help fulfill dreams of education.
Two incoming students from the United States are also crowdfunding their tuition on the Go Fund Me platform: John Scianna from Miami, Florida and Sequoia Blodgett from Los Angeles, California. John is a Bitcoin enthusiast and entrepreneur; Sequoia is the founder of Love Uncut, an intuitive relationship app for couples.
This isn't the first time Draper University entrepreneurship students and alumni have used crowdfunding to raise money. In total Draper University students and alumni have raised over $250,000 for their tuition and projects, including The Bistro, the smart feeder that recognizes your cats face and Peanuts4Peanuts, a peanut butter to help malnourished children in Haiti.
About Draper University: Located in the heart of Silicon Valley, Draper University is the brainchild of free-spirited venture capitalist Tim Draper, and co-founder of Draper Fisher Jurvetson Venture Fund. Draper University is an innovative school for entrepreneurs, offering both residential entrepreneurship programs and an online program for the brightest entrepreneurs from around the world. Students experience Silicon Valley via cutting edge, hands on curriculum taught by the most successful entrepreneurs in the Valley. Learn how to launch a business in this unique startup boot camp for entrepreneurs. For more information about the program or to apply online visit http://www.draperuniversity.com or contact us info(at)draperuniversity(dot)com.