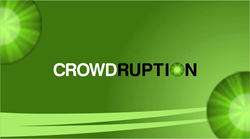 Los Angeles, CA (PRWEB) October 02, 2014
All businesses, big and small, have found themselves in the position where their current team is unable to crack the code on a problem or strategy that is keeping the company from moving forward at a competitive pace. Today, that void in problem-solving is being addressed with the launch of CrowdRuption.com; the new Los Angeles-based company that will disrupt common business-practices by combining the power of crowd-sourcing with the incentive of prizing: thereby, upsetting the status quo and creating a solution for businesses in need of creative answers to their most critical problems.
CrowdRuption.com enables companies to disrupt their current business practices by employing a new crowd-sourcing platform to solve their complex issues. The CrowdRuption platform is simple to use and allows companies to post a challenge, decide the prize amount and let the crowd solve their business issue. No longer does a company have to assemble a project team, devote a budget or hire a consultant. The turn-key platform allows management to innovate, solve complex problems and increase productivity.
While the concept of using prizes and crowd-sourcing is not new, CrowdRuption.com takes the prize concept to the masses for the first time; allowing businesses to have the same benefits of innovation and problem solving as big industries, but in a much more efficient and effective manner.
"With the speed in which businesses need solutions, they can no longer count only on the staff at hand," explains Glenn Kopelson, founder of CrowdRuption. "We are literally breaking traditional business models with the CrowdRuption.com platform and the time has come to allow all companies the ability to embrace technology and the crowd-sourcing model to solve their business needs. Our website is the first of its kind to disrupt current business practices and replace them with a prize platform to solve business issues."
The site was designed to simplify the process and enable a challenge to quickly hit the marketplace. No different than the way YouTube and Facebook crowd-source content and eBay crowd-sources products, CrowdRuption.com crowd-sources business solutions through its distribution network that currently extends to over 300,000 qualified problem solvers. Prizes awarded for challenges range from $10,000 to $50,000. The challenges are as diverse as developing an algorithm to improve inventory turnover to developing new products to designing a marketing plan to increase sales.
"CrowdRuption.com is a powerful tool that enables a company to find their resources and solutions from anyone, anywhere in the world," adds Kopelson. "No lengthy employment searches, no costly consulting firms…and the power is shared between company and innovators with the result being financial reward and company progression. "
For More Information, visit: http://www.CrowdRuption.com.
About Glenn Kopelson
Glenn Kopelson is a business strategist and the founder of CrowdRuption.com - a crowdsourcing prize-based platform for businesses. As a former business consultant, Glenn has worked with a variety of companies from startups to Fortune 500 companies. Glenn's background spans more than 20 years in the entertainment space leading business development and strategic business planning efforts. After finding that companies lacked the time, resources and capital to solve their business problems effectively, he developed CrowdRuption.com. Glenn's mission with CrowdRuption.com is to create a movement that allows companies and organizations to tap into a larger pool of resources that can help develop innovative solutions to their business challenges.