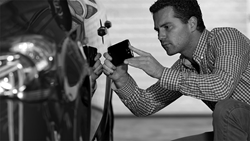 The traditional supply chain of automotive inspections is disrupted by collaborative consumption platforms like WeGoLook
Detroit, MI (PRWEB) November 10, 2015
Crowdsourcing can put an immense mobile workforce at anyone's fingertips and collaborative consumption platforms, such as WeGoLook, are becoming increasingly popular to conduct mobile inspections within the automotive industry. Mobile technology utilized by companies like WeGoLook offer an inspection platform, custom mobile application development for customers combined with an army of over 20,000 field agents. Think "uber of inspections" - no matter what company is chosen to conduct auto condition reports, make sure they have the national footprint plus development capabilities to create a personalized solution for the company or customer.
With the automotive remarketing industry projected growth to be stable with growth, WeGoLook has created a mobile technology to meet the growth and demand that is present and forthcoming. Here are 5 things you need to know about how using a crowdsourced technology can enhance the vehicle mobile inspection experience.
Secure Mobile Technology
Double check security standards with any device a company is using. WeGoLook is one of only a few inspection companies SSAE 16 SOC II data certified. Answers to questions and images are captured and delivered through secure cloud based mobile technology. All data is uploaded on-site by WeGoLook agents "Lookers" via the WeGoLook Mobile App to the QA department for review of accuracy. Photos are geotagged within the metadata and includes time/date stamp. Information is immediately deleted from agent's device upon submission. The inspection company chosen should have the ability to review the report for correct data capture.
Customized Solutions
Make sure the platform offers custom solutions along with traditionally offered services. WeGoLook provides several types of auto condition reports plus gives the option for an individual or enterprise client to create a personalized and specific report template along with the mobile app utilized within the WGL platform. Make sure the crowdsourced auto inspection company chosen has the ability to produce a customized report specifically meeting particular data point collection requirements.
Who Makes up the Crowdsourced Community
Keep in mind that crowdsourcing is an efficient way to hire a sub-contractor or third party for inspection needs. Verify the makeup of the community dispatched on the customers behalf. Are they vetted, insured and experienced? Crowdsourcing companies like WeGoLook are a third-party verification source. The goal is to provide an outside source to any transaction. Additional action items may be offered via preferred partners. Customized vehicle reports have the ability to incorporate vehicle reports from additional parties such as Autocheck and Carfax. The auto inspection company should be able to offer agents who have been vetted and have passed background checks.
Quality Assurance
How is it possible to receive similar and correct data for vehicle inspections from a crowdsourced community? A good example is how all report data captured through the WeGoLook platform and mobile device is reviewed by an internal team upon submission from the on-site appointment. Every mobile inspection is submitted back to WGL headquarters and approved through a Quality Assurance Team Member so you receive consistent quality every time.
Time Is Value
Everyone's time is valuable. Make sure the inspection company utilized is able to offer quick turnaround time. WeGoLook mobile vehicle inspections are created to be completed to meet specific Service Level Agreements and individual auction deadlines. With 20,000+ agents throughout the U.S. backed by secure mobile technology, WeGoLook can capture onsite photos in almost real time and submit them through the Quality Assurance Team quickly. Customers are notified when the WeGoLook Report is ready via email notification or API where it is accessible online with options to download the PDF and photos, or share with colleagues. WeGoLook operates 7 days a week and the WeGoLook expectation is to turn customer requests into a detailed condition report within 24-72 hours depending on customized needs.
WeGoLook is a dynamic field services and inspection company leveraging a sharing economy of 20,000+ Agents throughout the United States. Tasks and inspections are assigned to Agents through a crowdsourced platform. Agents collect field data, photos, and video via the WeGoLook Mobile App and complete custom tasking such as item pickup and delivery and more. WeGoLook specializes in verifying autos, properties, boats, heavy equipment, antiques, electronics, furniture, RV's and other assets. WeGoLook has expanded to international markets in the United Kingdom, Canada, and Australia with other countries to follow.