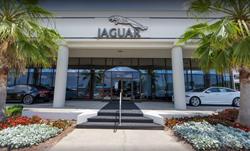 We are delighted to honor these deserving 32 Jaguar and Land Rover retailers for their recognized leadership in both customer service and sales satisfaction
St. Petersburg, FL (PRWEB) March 24, 2017
St. Petersburg-based Crown Jaguar was recently awarded the prestigious 2017 Pride of Jaguar Award by Jaguar Land Rover North America. The coveted award is given annually to the top 16 Jaguar retailers in the nation. This marks the dealer's 13th win and the tenth time in a row that the automotive manufacturer has honored Crown Jaguar with the distinction.
"We're honored to be recognized for ten consecutive years," said Larry Casto, General Manager of Crown Jaguar. "We want to thank Jaguar and our valued clientele for this award."
Jaguar Land Rover N.A. evaluated its 330 U.S. Jaguar and Land Rover retailers based on three key performance categories, choosing 16 top dealers from each brand. Award-winning Land Rover stores received the Land Rover Pinnacle Retailer Excellence Award.
The qualifying categories included customer advocacy, sales, and business excellence.
"We are delighted to honor these deserving 32 Jaguar and Land Rover retailers for their recognized leadership in both customer service and sales satisfaction," said Joe Eberhardt, President & CEO of Jaguar Land Rover N.A. in the manufacturer's statement earlier this month.
Crown Jaguar offers an extensive selection of new, certified pre-owned, and quality pre-owned Jaguar models at its St. Petersburg location in Florida. The luxury dealership also houses a state-of-the-art service department staffed with Jaguar certified technicians.
"Together with our retailers, we take great pride in providing an exceptional overall experience for our customers that sets us apart from the rest," said Eberhardt.
About Crown Automotive Group
Over the last 40 years, Crown Automotive Group has grown into one of the largest dealership groups in the nation,with operations in Florida, Ohio, and Tennessee.
Every Crown Automotive dealership features an extensive selection of new, certified, and meticulous inspected pre-owned vehicles with financing options for every budget. Customers can also expect superior service from a team of highly trained technicians at Crown's signature award-winning service facility.
Driven by four core values: Customer Focus, Teamwork, Integrity and Growth, the group is committed to providing each customer with "The Better Way To Buy."
About Jaguar Land Rover
Jaguar Land Rover is the UK's largest automotive manufacturer, built around two iconic British car brands: Land Rover, the world's leading manufacturer of premium all-wheel- drive vehicles; and Jaguar, one of the world's premier luxury sports sedan and sports car marques.
The company employs almost 38,000 people globally, with 330 in the U.S. and supports around 275,000 more through its dealerships, suppliers and local businesses.
Manufacturing is centered in the UK, with additional plants in China, Brazil, India and Slovakia.