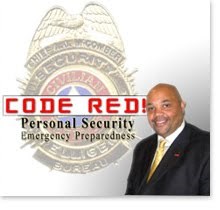 Severe cold weather brings specific challenges to people both at home and on the road. Today's featured guests will provide important tips that could just save your life!
Arlington, VA (PRWEB) January 08, 2014
During the next live episode of the Code Red! radio show specifically dedicated to personal security, safety and emergency preparedness issues across America and around the world, host Alfred McComber's special featured guests will include Emergency Preparedness Expert, Paul Purcell, who is also the author of "Disaster Prep 101 - The Ultimate Guide To Emergency Readiness." Paul will stop by the show to provide important thought-provoking strategies for proper emergency preparedness at home during severe cold weather incidents.
Also during the broadcast, John Townsend, II, the Manager of Public and Government Affairs with AAA Mid-Atlantic in Washington, DC will stop by the show to provide important information and tips that can help keep motorists and even pedestrians safer when driving during inclement weather conditions. Mr. Townsend will also discuss a checklist of extremely important items to keep in vehicles to help deal with winter driving situations and emergencies BEFORE they happen.
Later in the show, David Shimberg, the Chairperson of the Contingency Planning Association of the Carolinas (CPAC) visits the Code Red! radio show to discuss the upcoming 15th Annual CPAC Symposium entitled, "Navigating to Resiliency" taking place in Charlotte, NC on January 16-17, 2014.
The worldwide online Code Red! radio show broadcast is scheduled for Wednesday morning, January 8, 2014 from 10:00AM-11:00AM (Eastern). Listeners can tune into the live Code Red! radio broadcast from any internet connected computer device by visiting: http://www.trck.me/CRRS010814. Listeners also have the option of calling in to the live show on (646) 478-5931 to ask our featured guests or radio host questions related to the topics being discussed.
The Code Red! radio show is hosted by long time high profile dignitary protection and veteran law enforcement officer Alfred McComber. The show which has been airing since 2004 is specifically dedicated to helping civilians and first responders across America and around the world become much better prepared for all sorts of natural and man-made disasters and critical emergencies.
For more details, visit Code Red!'s main website at: http://www.CodeRedRadioShow.com.