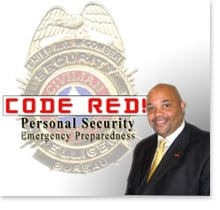 Weather can change at a moments notice and having the WeatherBug app with you could just save your life!
Arlington, VA (PRWEB) June 18, 2014
During the next live episode of the Code Red! radio show specifically dedicated to personal security, safety and emergency preparedness issues across America and around the world, host Alfred McComber's special featured guests will include Randy Smith, Homeland Security Specialist with Earth Networks based in Germantown, MD.
Randy will be stopping by the show live to discuss how Earth Networks technology including their free downloadable WeatherBug app is helping private individuals, businesses, organizations as well as local, state and federal agencies be better prepared to deal with all different types of weather related challenges and critical emergencies.
Later in the broadcast, Wyatt Werneth with the American Lifeguard Association in Vienna, VA stops by the show live to discuss important water safety tips for both children and adults at swimming pools as well as other bodies of water including rivers, lakes and beaches.
The worldwide online Code Red! radio show broadcast is scheduled for Wednesday morning, June 18, 2014 from 10:00AM-11:00AM (Eastern). Listeners can tune into the live Code Red! radio broadcast from any internet connected computer device by visiting: http://www.bit.ly/CRRS061814.
Listeners also have the option of calling in to the live show on (646) 478-5931 to ask our featured guests or radio host questions related to the topics being discussed.
The Code Red! radio show is hosted by long time high profile dignitary protection and veteran law enforcement officer Alfred McComber. The show which has been airing since 2004 is specifically dedicated to helping civilians and first responders across America and around the world become better prepared for all sorts of natural and man-made disasters and critical emergencies.
For more details, visit Code Red!'s main website at: http://www.CodeRedRadioShow.com.