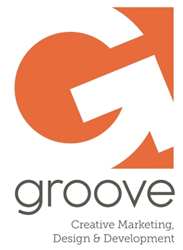 We also recognize that there is a bigger need in our tech space to attract and keep top creatives. We hope that Groove can serve as just one example that this region is the place to be for innovative tech 'geeks.'
Baltimore, MD (PRWEB) March 30, 2015
Groove, a Baltimore-based creative marketing, web design and development agency, was named the "Best Place to Work" during the Chesapeake Regional Tech Council (CRTC) 10th annual TechAwards 2015: Connect With Confidence.
The awards honor the region's rising tech companies, outstanding innovators, and all-around top professionals. More than 60 companies vied for recognition in the TechAward's six categories. A 13-member selection committee chose award winners after a rigorous two-month nomination and selection process.
"Groove is committed to our team and the culture that they have created. It is an honor to be acknowledged among the top technology companies in the area for that commitment," said Ethan Giffin, Groove's Founder and CEO. "We also recognize that there is a bigger need in our tech space to attract and keep top creatives. We hope that Groove can serve as just one example that this region is the place to be for innovative tech 'geeks.'"
Groove was recently appointed for a second time to Inc. Magazine's "Inc. 5,000" list as one of the fastest growing private companies in the country. The agency was also recognized as one of Baltimore's "Best Places to Work" by the Baltimore Business Journal and as one of the nation's "Best Young Companies to Work for" by turnstone.
About Groove
Founded in 2007, Groove is one of the nation's premier creative marketing, web design and development agencies. Headquartered in Baltimore, MD, Groove delivers digital solutions to small and mid-sized businesses, ranging from eCommerce, web design, inbound marketing, and branding. The growing company has been recognized nationally on the 2013 and 2014 Inc. Magazine "Inc. 5000" list, as an Agency Post "Agency 100," and as a "Best Young Company to Work for" by turnstone. Groove was also named a 2014 "Best Place to Work" in Baltimore by the Baltimore Business Journal, taking first place in the small business category.
Groove has forged partnerships with some of the world's leading software programs like Magento, HubSpot, Bigcommerce, Shopify, and Salesforce.com. The agency is the only Magento Gold Solutions Partner in the tri-state area and the only HubSpot Platinum Partner in Baltimore (one of 16 globally!). To learn more about Groove, visit http://gotgroove.com.