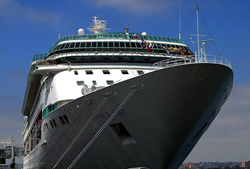 Let's not wait for a cruise line to have an 'Exxon Valdez moment' before we protect future passengers.
Alexandria, VA (PRWEB) March 13, 2014
Nexus Consulting is proud to announce the release of an industry paper – highlighted in letters to the US Government's National Transportation Safety Board [NTSB] and Senate Commerce Committee Chairman Senator Jay Rockefeller – that advocates on behalf of cruise passengers who face increasingly-exposed risks while at sea. While the cruise industry continues to insist passengers are safe at all times, media reports – which are often the tip of the proverbial iceberg – can reveal the opposite. A NTSB forum has been announced on cruise safety, operations and oversight to take place in about two weeks.
"Cruise lines do not currently have a global plan to address 'worst case scenarios,'" said Captain Bill Doherty, a US Navy veteran and former cruise line safety manager. "Similar to the oil industry's unpreparedness prior to the 'Exxon Valdez' disaster in Alaska, there is no coordinated, global system in place in case of a disaster aboard a cruise line – and here we're talking about human lives. We're advocating a plan to preemptively safeguard souls at sea in case of tragedy. Let's not wait for a cruise line to have an 'Exxon Valdez moment' before we protect future passengers."
The essential position paper by Captain Doherty, who has previously testified before the United States Senate on cruise safety, can be found here.
In addition to the paper's release, Nexus is lobbying the NTSB to include their written and oral testimony on this subject before the forum taking place in March 25-26, 2014. To date, this forum on cruise ship safety does not include a passenger advocate, leaving the testimony unbalanced in favor of the cruise industry.
"We're in the business of keeping cruise ship passengers and all mariners safe, period," said Captain Doherty. "We feel that just like the oil industry was required to develop contingency plans and cleanup operations to preserve earth's ecology, cruise lines should also be required to have rescue plans and a global coordinated response in case of a disaster that saves human lives. The solutions we're proposing would accomplish that efficiently, and ultimately strengthen the cruise industry."
Nexus is at the forefront to improve cruise ship safety, having previously testified before the United States Senate. Nexus Consulting is also a recognized leader in the highly-dynamic and growing field of maritime security and piracy deterrence.
About Nexus
Nexus Consulting, an ISO 9001:2008 certified Maritime Safety and Security Firm was established in 2005 with a focus on security operations in high-threat theaters and cruise passenger safety. In 2008, Nexus Consulting was the first maritime security firm to advocate for armed security teams embarked on commercial ships. In 2009, in the wake of the Maersk Alabama hijacking (made famous in the acclaimed film "Captain Phillips"), Nexus embarked one of the first armed security teams on commercial vessels to protect US mariners, and has been providing security services to protect merchant mariners ever since.
Nexus works closely with various US and international governing bodies and continues to do so to ensure transparent operations in the increasingly difficult task of protecting mariners. Nexus has been licensed and cleared for operations in South Africa, Djibouti, Sri Lanka, Kenya, Egypt, Malta, and many other locations.
Nexus has always been and continues to be highly cognizant and respectful all international laws and the authority of port-state controls, which from time to time are highly dynamic (for example, with rapid governmental control changes). For more information, please visit http://ncga.us.
###