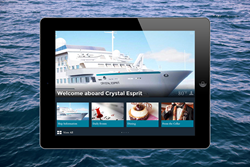 The fact that a company of Crystal's caliber is embracing Intelity's technology is an early sign of changing standards across the entire hospitality industry.
LOS ANGELES (PRWEB) February 10, 2016
Hospitality technology provider Intelity today announced its partnership with Crystal Cruises, the world's most awarded luxury cruise line, to introduce the line's "Digital Directory," which will allow guests to access services digitally while aboard the vessels. Each penthouse aboard the newly launched Crystal Esprit now feature touchscreen tablets that will provide current voyage information about ports and programming, Crystal Adventures ashore and daily menus in the dining venues, while also allowing guests to book reservations for excursions and dining, and even control their stateroom temperature. Additionally, guests can stay current on the day's news, as the devices link directly to Press Reader, which offers an array of global newspapers. True to Crystal's celebrated personalized service, the device will greet guests by name upon activation.
"A key component to my vision for Crystal to continue as a leader in redefining luxury is to embrace technology and allow it to help streamline our guests' experience," said Edie Rodriguez, Crystal's president and CEO. "Not only does the Intelity platform make a significant step in this direction, it also helps us reduce our paper consumption and inform our guests in a more efficient way."
A brand-wide mobile application, also built upon the Intelity platform, will help connect travelers booked on any voyage on any ship in the Crystal Cruises fleet with information needed to make their voyage smooth sailing, including ship information, voyage details and programming notes. Guests can download the app to any Android or iOS mobile device to assist with pre-cruise planning and receive notifications before embarkation.
Intelity CEO & President David Adelson said, "It's an incredible privilege that our company is making its cruise line debut with the luxury cruise line ranked number one by the U.S. News & World Report and so many other revered publications. The fact that a company of Crystal's caliber is embracing Intelity's technology is an early sign of changing standards across the entire hospitality industry. Going digital is one of the leading ways that modern hospitality brands can ensure impeccable service and a truly distinguished customer experience."
Crystal's management and staff will also be able to take advantage of the system tools included with the Intelity platform. Features such as application content control, business intelligence metrics, built-in ticket management, and direct marketing and messaging enhance the value of the guest service software by increasing its impact on overall operations rather than just serving as a guest-facing mobile solution.
"We're constantly seeking to innovate when it comes to delivering authentic, memorable travel experiences. Selecting a partner who can offer us a platform that also provides numerous operational benefits will be a strong resource for us as we move toward our upcoming goals for brand expansion," added Rodriguez.
About Crystal Cruises
Crystal Cruises is the world's most awarded luxury cruise line, having earned more "World's Best" accolades than any other cruise line, hotel, or resort in history.  Crystal Cruises has won "World's Best Cruise Ship" in Condé Nast Traveler's Reader Choice Awards for 22 years; been voted "World's Best Large Ship Cruise Line" by Travel + Leisure readers for 20 consecutive years; and the "Best Luxury Cruise Line" by Virtuoso for two-consecutive years (2014 & 2015). In summer 2015, Crystal embarked on the most significant brand expansion in the history of luxury travel and hospitality, which will introduce three new classes of cruising – Crystal Yacht Cruises (December 2015), Crystal River Cruises (July 2016), Crystal Exclusive Class Ocean Cruises (late 2018) – and Crystal Luxury Air (fall 2017).  
For more information and Crystal reservations, call 888-799-4625, or visit http://www.crystalcruises.com.  Join the thousands who follow the Crystal Cruises Facebook page and @crystalcruises on Twitter and Instagram to engage in the conversation with #crystalcruises.  
About Intelity
Intelity, headquartered in Orlando, Florida, is the creator of the world's first and most widely used integrated guest services platform, ICE (Interactive Customer Experience™). With certified integrations to all major hotel back-end management systems (POS, PMS, Ticketing, Spa and Room Controls), Intelity's ICE is a centralized property-automation system that delivers concierge-level services, guest request tracking and fulfillment, business-intelligence analytics, marketing/messaging capabilities, and a full content management system. Since beginning operations in 2007, the Inc. 5000 company has gained a reputation as a leader in hospitality technology with installations across six continents, including most major brands and many celebrated independent properties. Intelity recently received Best Mobile App in Hospitality from Travel Weekly's Magellan Awards and World's Leading Hotel Brand App from the World Travel Awards. For more information, please call 1-888-RevPAR-1 (1-888-738-7271) or visit http://www.intelitycorp.com or follow us on LinkedIn, Twitter or Instagram.