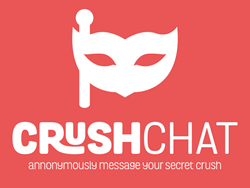 CrushChat solves a problem that single people have had for generations – being too scared to talk to their secret crush out of fear of rejection.
Irvine, Ca (PRWEB) January 11, 2016
Have you ever been too scared to talk to your secret crush?
CrushChat is pleased to announce the launch of the first anonymous messaging app designed to bring the 'secret admirer' and the 'secretly admired, together!
"Crush Chat solves a problem that single people have had for generations – being too scared to talk to their crush out of fear of rejection,' said David Gill, Crush Chat's Co-Founder. "It provides an easy, fun way to connect with someone you might not have the courage to talk to in person just yet, and have the freedom to be yourself without feeling self-conscious."
Popular apps like Yik Yak and Whisper allow users to anonymously share secrets, gossip and other random thoughts to a network of other users, essentially providing the user a "one-to-many" interaction.
The CrushChat platform provides a much different experience, allowing users to initiate a private "one-to-one" exchange with friends, classmates, or co-workers, and keep their identity hidden until they choose to reveal it!
"CrushChat helps people start a fun conversation with their secret crush. It's as simple as that," said Jeff Edwards, CEO and Co-Founder of CrushChat. "In the old days, there were notes left in lockers from secret admirers. In today's digital world, CrushChat is the new anonymous note. If I had to define it, CrushChat is not so much a 'dating app' but a 'flirting app' and provides the perfect solution for the digital age."
In addition, with total Instagram integration users can choose to reveal their identity by logging into Instagram and also post anonymous notes.
How it works:

Download CrushChat and send an anonymous message to your 'crush' instantly via phonebook contacts. No login required.
Your 'crush' will then receive an automated text message with a unique Crush Code that will take them to your one-on-one conversation, where your identity will be hidden!
Anonymous chat has no time limit. Once you initiate a chat, you can reveal yourself at anytime, or simply continue to remain anonymous.
You can also 'Post' or leave anonymous notes for anyone you follow on Instagram or find interesting in the Hot/New section. Think of it like your own bulletin board with a 140 character limit.
To See CrushChat in action, visit: http://www.crushchat.co
Market: Millennials and Teens
Category: Social Networking, Messaging, Anonymous Social, Lifestyle