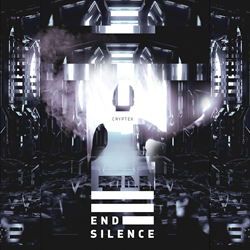 Los Angeles, CA (PRWEB) December 11, 2014
Los Angeles-based glitch producer Tyler Chase, known by his Cryptex moniker, is back with his debut album, and it's as exhilarating as it is diverse.
His first EP, Isolated Incidents, has become a staple among glitch enthusiasts and led him to collaborating with MTV and Elastic.tv to create customized remixes and mashups for each category of the 2014 Video Music Awards.
"End Silence", his 14-track debut album, fuses genres like glitch, dubstep, trap, moombahton, electro, classical, acoustic, hip-hop and even jazz, showcasing his truly diverse abilities as a musician. The LP also features vocals from San Francisco grown, Portland-based Raquel Divar, Atlanta-based Aliya Smith and Cryptex himself.
Cryptex has quite the impressive resume for a 21-year-old. He has been working in the entertainment industry since age 15. In addition to his passion for music, his passion for acting has landed roles film and television including AMC's, "The Walking Dead" and FOX's, "Sleepy Hollow".
"End Silence" releases this week on Cryptex's label, Orphic Recordings. The album is the very first release on his own label, and it's safe to say, he's raised the bar extremely high.
"End Silence" is available through all major distribution sites including: iTunes, Beatport and Spotify. The album can also be heard on Soundcloud at soundcloud.com/cryptex.