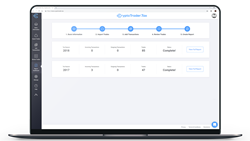 We're excited to be adding Uphold and HitBTC to the growing list of exchanges that we support.
KANSAS CITY, Mo. (PRWEB) May 07, 2019
CryptoTrader.Tax, a Missouri-based cryptocurrency tax software start-up, has announced its integration with popular cryptocurrency exchanges Uphold and HitBTC. CryptoTrader.Tax is the easiest and the most accurate way to calculate trading gains and prepare crypto taxes. With this integration, Uphold and HitBTC users can easily import their trades into the platform and create required tax reports with the click of a button.
The Cryptocurrency Tax Problem:
The IRS treats cryptocurrency as property for tax purposes. This means you are required to report your capital gains and losses from your crypto trades on your taxes. To properly report these transactions, you need to report the original cost basis, the fair market value in USD of the coin at the time of the trade, and the amount of gain or loss you incurred for every cryptocurrency transaction. Exchanges alone cannot supply users with this tax data because of the nature of cryptocurrency. If a user deposits or withdrawals crypto at anytime from an exchange, the exchange loses the ability to provide this type of data. This is a massive problem in the young cryptocurrency industry, and it is why data aggregators like CryptoTrader.Tax are essential for cryptocurrency users.
"We're excited to be adding Uphold and HitBTC to the growing list of exchanges that we support. Simply import your cryptocurrency trades into the platform. The software will automatically crunch your capital gains and losses numbers and generate the necessary tax documents including the IRS form 8949," says David Kemmerer, Co-founder and CEO of CryptoTrader.Tax. "We're on a mission to make the world of cryptocurrency easier for everyday consumers."
The Company
CryptoTrader.Tax has tens of thousands of users on its platform today and has processed over one billion dollars in cryptocurrency transactions. It has also partnered up with tax preparation giant Intuit TurboTax to bring cryptocurrency tax reporting capabilities to millions of Intuit users.
Key Benefits:
-Minimize your tax liability: CryptoTrader.Tax calculates your crypto tax liability using the same method that tax professionals and CPAs use. It assures that you are paying the correct amount and minimizing your tax liability.
-Easily import historical data: CryptoTrader.Tax makes it easy to import your trading history across all cryptocurrency exchanges. In less than 10 minutes, you can have the year's trading history ready for review.
-Export your tax documents for easy filing: You can download your IRS forms to either file yourself, send to your CPA, or import into TurboTax Online.
Click here to get a glimpse of How CryptoTrader.Tax Works.
CryptoTrader.Tax is available for Free when you get started. For additional features, upgrade to a yearly subscription. To learn more about CryptoTrader.Tax, visit https://www.cryptotrader.tax/
About CryptoTrader.Tax and its Founders:
Founded in December 2017, CryptoTrader.Tax is an automated cryptocurrency tax processing platform that was built out of necessity by the founders after getting into the world of crypto in early 2017 and later realizing the tax implications of it all. Thousands of people have already used the software to do their crypto taxes, and partnering up with TurboTax has helped the company bring the product to many more users.
The young founders, David Kemmerer, Lucas Wyland, and Mitchell Cookson are looking to enable the world of cryptocurrency by making it more accessible for the average consumer. Lucas and Mitchell are both full stack developers with a depth of technical know-how. David rounds out the team with a background in growth marketing, SEO, and software sales. To learn more about CryptoTrader.Tax, please send an email to david(at)cryptotrader.tax or visit https://www.cryptotrader.tax/
URL
https://www.cryptotrader.tax/
Facebook URL
https://www.facebook.com/CryptoTrader.Tax
LinkedIn URL
https://www.linkedin.com/company/cryptotrader-tax/about/
Twitter Handle
@CryptoTraderTax