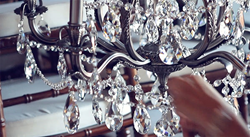 "We are deeply honored to have been selected as one of the finalists in this year's prestigious ARTS Awards competition," said Brad Kleinberg, president of Crystorama
Westbury, N.Y. (PRWEB) December 30, 2014
Decorative lighting source Crystorama Lighting has been named a finalist in the 26th annual ARTS Awards competition in the lighting fixtures category.
Founded in 1958 by Abraham Kleinberg as a Brooklyn, N.Y.-based importer of crystal and brass chandeliers from Czechoslovakia, Crystorama has evolved over the past five-plus decades into a leading producer of interior decorative chandeliers, pendants, sconces and other lighting across a wide range of styles. The company is known for superb craftsmanship, innovative use of materials and creative designs, which fuse timeless techniques with current inspirations to create fashion-forward styles with a unique mix of metals, finishes and crystals.
"We are deeply honored to have been selected as one of the finalists in this year's prestigious ARTS Awards competition," said Brad Kleinberg, president of Crystorama, "Building on the bedrock principles of our founder, my father Abe, we remain passionately committed to creating stunningly beautiful and functional lighting that enriches people's lives. Through our original designs and collaborations with influential designers, such as Libby Langdon and Dorian Webb, we've taken lighting to the next level and made it into the 'jewelry of the home.'"
Developed by the Accessory Resource Team and produced by Dallas Market Center, the ARTS Awards competition is the premier international awards program dedicated to home industry excellence and achievement in retailing, manufacturing, design and representation. A year-long process of submission, review and judging, the Arts Awards competition culminates with a black-tie gala held each January during the Dallas Total Home & Gift Market.
The 26th annual ARTS Award presentation will be held Friday, Jan. 16 at the Hilton Anatole Hotel in Dallas. Award winners will be announced during the gala, which is attended by nearly 700 industry leaders. The winners - chosen by an expert panel of industry leaders from hundreds of submissions - are recognized for attributes such as customer service, craftsmanship, creativity and business excellence.
About Crystorama
For more than 50 years, Crystorama has been a leader in the lighting industry, recognized for distinctive lighting creations that are exceptional in quality, design and craftsmanship. Drawing upon its depth of knowledge and expertise and inspired by fashion and art, Crystorama continues to innovate with modern shapes, materials and colors.
Crystorama chandeliers are featured in such prestigious institutions as the U.S. Supreme Court, Constitution Hall and the Palace Theatre, as well as hotels, resorts and homes that range from urban lofts and country estates to suburban neighborhoods. The family owned business is headquartered in Westbury, N.Y., and serves retailers and contract distributors nationwide. For more details, visit crystorama.com
For press inquiries or interview requests:
Evan Jacobson
publicrelations[at]riversagency[dot]com
919.932.9985