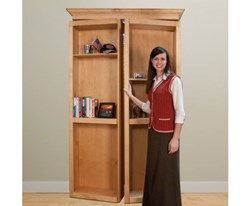 Showcasing the InvisiDoor along with our other innovative products like the rolling ladder and rolling barn door is a highlight for us
Cedarburg, WI (PRWEB) October 15, 2013
Custom Service Hardware, a leader in the wholesale hardware industry, is attending the annual Remodeling Show in Chicago on October 16-18. The Remodeling Show is an annual trade show, educational conference and networking opportunity for professional remodelers. The trade show hosts hundreds of exhibitors as well as installation clinics, interactive workshops and classroom events, exhibitor-led product presentations and more. CS Hardware looks forward to featuring the InvisiDoor as well as presenting a collection of quality hardware and supplies at the Remodeling Show this year.
This event is the only national remodeler-centric show for face-to-face meetings of the entire remodeling industry. Tim Stepanksi, Marketing Manager at CSH, said that CS Hardware will be showcasing its major hardware products in addition to a selection of their large inventory. The Remodeling Show has expanded over more than two decades and now includes all aspects of the remodeling community. Attendees will find industry professional showcasing projects for kitchen and bath, home improvement, aging-in place, sustainable remodeling, tools and services, and much more.
The CSH InvisiDoor, which is available in both a standard in-swing or out-swing and bi-fold model, will be on display at the Remodeling Show. Professionals will be able to see the fine construction quality and ease of use the hidden doors provide with a pivot hinge. It's important for CS Hardware to showcase their hidden bookcase door so that professionals can get a first-hand experience with the hardware. Other well-known and coveted products from CS Hardware include their rolling library ladder and rolling barn door hardware.
"CS Hardware looks forward to participating in trade shows every year, and we especially enjoy the Remodeling Show. Showcasing the InvisiDoor along with our other innovative products like the rolling ladder and rolling barn door is a highlight for us," said Stepanksi.
The Chicago Remodeling Show puts a heavy focus on education for potential customers and businesses, which is why businesses can set up on the floor, in classrooms, and even in the hallways to display their projects. Businesses and professional remodelers attend this trade show to meet others in the industry and get more information about new hardware innovations.
CSH is well known for their "Original InvisiDoor" or hidden bookcase door. Customers can purchase a traditional InvisiDoor or BiFold InvisiDoor in a variety of wood finishes. The hidden bookcase doors are easy to install for novices to professionals. Custom Service Hardware manufactures all InvisiDoors domestically in their Wisconsin factory. They offer their own line of ready to assembly cabinets and rolling doors are which also made in the USA. Instructions are included for all hidden door orders and customers enjoy quick order fulfillment compared to waiting weeks for expensive custom orders.
For over 30 years, Custom Service Hardware has been committed to providing their customers with quality products at great prices. CSH maintains a large inventory of major brands of hardware and a full line of ready-to-assemble cabinets, rolling library ladders, barn door hardware and hidden doors. With 60,000 square feet of warehouse space and 35 full-time employees, CSH has become a leader in the wholesale hardware industry. For more information, visit their website at http://www.cshardware.com, or contact them by phone at (800) 882-0009.