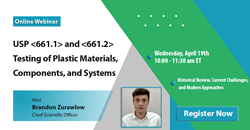 The goal of this webinar is to provide key industry stakeholders with an overview of 661.1 and 661.2 applicability, a historical review of changes to-date, a discussion of current challenges in implementing the new methods, and modern testing approaches to help ensure compliance
CLIFTON, N.J. (PRWEB) March 22, 2023
CS Analytical Laboratory, the world's only FDA regulated contract laboratory exclusively dedicated to providing regulatory solutions and qualification testing services specifically for drug product and medical device container systems, is excited to announce that it will be hosting an educational webinar on USP General Chapters 661.1 and 661.2, which will become effective on December 1, 2025. The webinar is scheduled for Wednesday April 19, 2023 at 10:00am through 11:30am ET and will cover all pending and current testing requirements and a key discussion on pending changes that are under consideration. This webinar will be hosted by Brandon Zurawlow, Chief Scientific Officer for CS Analytical. The webinar is free of charge and attendees may register at this link: https://engage.csanalytical.com/webinar
"Over the past decade, the USP 661 chapter has undergone a series of revisions that have made the development and implementation of a testing strategy much more complex. Understanding these changes is paramount to ensuring that your container and package systems meet these new requirements that will become effective December 1, 2025," noted Brandon Zurawlow, CSO. "The goal of this webinar is to provide key industry stakeholders with an overview of 661.1 and 661.2 applicability, a historical review of changes to-date, a discussion of current challenges in implementing the new methods, and modern testing approaches to help ensure compliance."
USP 661.1 is designed to characterize plastic materials used in the construction of a packaging component or system, whereas USP 661.2 chapter is intended to be applied to plastic packaging systems. While portions of these chapters may continue to evolve, with 661.2 back in USP PF for industry review, there is no expectation that there will be any additional delay to the December, 2025 effective date. With the date for required compliance rapidly approaching, now is the time for companies to begin planning the most efficient and effective strategy to meet the new and more comprehensive test requirements. Webinar attendees will gain valuable insight into how to consider and address critical issues for USP 661.1 and USP 661.2 testing.
About CS Analytical Laboratory
The only FDA regulated, cGMP laboratory dedicated exclusively to the complex world of drug and medical device container and package qualification testing, the CS Analytical Team includes the world's leading experts on all relevant USP and EP requirements and the thought leaders and pioneers on CCI (container closure integrity – CCI) testing. Offering a full suite of laboratory services to include all USP, EP and JP procedures specific to glass, plastic, and elastomers, as well as complete USP 1207 services that span basic feasibility studies, component qualification programs and advanced method development and validation for helium leak testing, vacuum decay, high voltage and headspace analysis leak testing. CS Analytical is the one source that can ensure your medical product container and package system meets the strict and complex regulatory requirements.