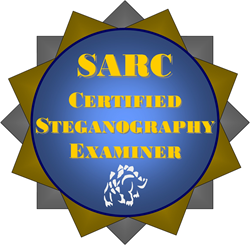 The training was very informative and that it appealed to our organization because it allowed us to save money on travel, lodging, and other expenses.
Fairmont, WV (PRWEB) February 20, 2014
Backbone Security's Steganography Analysis and Research Center (SARC) is pleased to announce the 2014 schedule for their popular online Certified Steganography Examiner training course.
Upon completion of this comprehensive two day course, students have the tools and experience needed to detect the presence and use of digital steganography applications as part of their digital forensic examinations. Students gain an understanding of the threat posed by the use of steganography in today's interconnected digital world. Students also become familiar with various techniques and methods used for embedding hidden information within carrier files. Students gain hands-on experience using a variety of steganography tools while learning how the tools manipulate carrier files to conceal information.
Students learn about the Analytical Approach to Steganalysis: an approach developed by the SARC as a result of extensive research of steganography applications and the techniques they employ to embed hidden information within carrier files. The premise of the Analytical Approach is to first determine if a particular steganography application existed on storage media at one point in time. Next, potential carrier file types are identified and examined for known signatures of steganography applications. Once steganography signatures are detected, extraction of the hidden information is possible.
Students conduct a complete steganography examination from initial suspicion and analysis to detection and recovery of hidden information. The Steganography Analyzer Artifact Scanner (StegAlyzerAS) is used to scan suspect media for the presence of steganography application artifacts. Students also learn how to scan for artifacts in the Microsoft Windows Registry, a feature exclusive to StegAlyzerAS. The Steganography Analyzer Signature Scanner (StegAlyzerSS) is used to identify files containing signatures of steganography applications. Students learn how to use Automated Extraction Algorithms to extract hidden information from carrier files with a simple "point-click-and-extract" interface, a feature exclusive to StegAlyzerSS.
The first online Certified Steganography Examiner course was held in December 2009 for staff of the AllSouth Federal Credit Union. Carol Dobbs, Vice President of Information Technology, said "The training was very informative and that it appealed to our organization because it allowed us to save money on travel, lodging, and other expenses."
According to Andrea Guerreri, Chairman and CEO of Backbone Security, "Being able to provide our highly successful steganalysis training in an online format allows us to reach customers who may not be able to travel to digital forensic conferences or our facilities for training. And, it gives us additional flexibility to customize our course for both large and small organizations."
The 2014 online Certified Steganography Examiner training schedule is:

February 27 - 28
May 26 - 27
August 28 - 29
November 24 - 25
For additional information or to reserve your seat, please visit http://www.sarc-wv.com/training/certified_steganography_examiner, call 1-877-560-7272, or send email to sarc@backbonesecurity.com.
On-site and closed-session training is also available. Contact the SARC for details.
For additional information about Backbone Security's steganography detection tools and services, please visit the SARC website at http://www.sarc-wv.com.
------------------------
About the SARC
The SARC is a Center of Excellence in digital steganography research and development within Backbone Security. The SARC has established the world's largest commercially available repository of digital steganography applications, fingerprints, and signatures and has developed industry leading computer forensics and network security steganalysis tools for detecting and extracting information hidden with digital steganography applications.
About Backbone Security
In addition to being the leading provider of digital steganalysis tools, Backbone is a Payment Card Industry Data Security Standard (PCI-DSS) Approved Scanning Vendor (ASV) that conducts automated PCI-DSS compliance assessments with their industry leading 1 Stop PCI Scan service. Backbone also provides real-time intrusion monitoring, vulnerability assessment, penetration testing, and business continuity and disaster recovery planning services.
Contact: Chad Davis, Director, SARC
Voice: (304) 333-7272 or (877) 560-7272, Fax: (304) 366-9163.