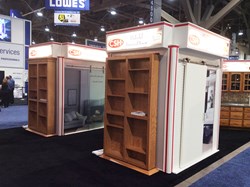 Bringing KBIS and IBS together was a win for both sides as it brought all of the building industry together.
Cedarburg, WI (PRWEB) February 13, 2014
Custom Service Hardware, a leader in the wholesale hardware industry, attended the National Association of Home Builders (NAHB) International Builders' Show in Las Vegas from February 4 to February 6, 2014. At IBS more than 75,000 home builders and suppliers convene to discuss new products and the needs of buyers. Custom Service Hardware used this opportunity to showcase some of their best-loved products to a great reception from attendees.
This year was the first time the NAHB and the National Kitchen and Bath Association co-located their events to create the first annual Design & Construction Week. Attendees had access to the International Builders' Show and the Kitchen and Bath Industry Show, along with the International Window Coverings Expo to offer an experience that provided exhibits and education for all areas of residential construction. The exhibit space was nearly 100,000 square feet larger than the previous year, with exhibitors filling 440,000 square feet compared to 2013's 355,000 square feet.
CS Hardware presented different styles and finishes of ready-to-assemble kitchen cabinets at IBS. Home builders and designers often choose CSH because of the customer service during ordering and prompt shipments of the cabinets. Last year CSH began manufacturing its own new exclusive line of American made RTA cabinets. As one of the few ready-to-assemble companies that sells American made cabinets, the company continues to focus on manufacturing more products in the USA.
In addition to their RTA cabinets, CS Hardware also designs and manufactures the QuietGlide™ rolling library ladders and rolling barn door hardware, and the InvisiDoor™ hidden door products in Wisconsin. CSH showcased these products on the floor of IBS with staff on hand to demonstrate the rolling ladders and doors and to highlight the newer stainless steel rolling door hardware. Rolling ladders and doors remain popular with home owners and designers who want the smooth and quiet motion, simple installation and sleek designs. These qualities make them a great style element that also adds functionality to customers' homes.
At IBS the InvisiDoor™ had a considerable draw since builders and homeowners could see the door in action. CS Hardware staff answered questions and educated attendees on the benefits of installing a hidden door. The InvisiDoor™ is the first production hidden door and it is sized to fit standard openings. Made from premium plywood and domestic hardwoods, customers get fair pricing and the added convenience of only a 2 to 4 week lead time.
CSH's exhibit at IBS was a big success, drawing attention from a large number of attendees. Tim Stepanski, marketing manager at CSH, said, "Our booth had non-stop traffic and we're seeing more people than ever with the 'ready to purchase' mentality. Bringing KBIS and IBS together was a win for both sides as it brought all of the building industry together."
About Custom Service Hardware
For over 30 years, Custom Service Hardware has been committed to providing their customers with quality products at great prices. CSH maintains a large inventory of major brands of hardware (over 25,000 products), including a full line of ready-to-assemble cabinets. With 60,000 square feet of warehouse space and 35 full-time employees, CSH has become a leader in the wholesale hardware industry. For more information, you can visit their website at http://www.cshardware.com. You can also reach them at service(at)cshardware(dot)com or by phone at (800) 882-0009.