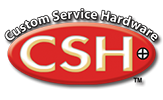 Cedarburg, WI (PRWEB) April 30, 2014
Wholesale industry leader Custom Service Hardware recently launched a redesigned website to improve the customer shopping experience and to add more beneficial features. CS Hardware has been dedicated to providing top quality hardware and tools to their customers for years, and now their website is better than ever. Whether home owners need a few hardware pieces or contractors need to outfit a whole new kitchen, anyone using CS Hardware's new website will find it simple to browse to find what they need.
The fresh new look of the website makes it easier than ever for customers to navigate and search for the hardware and tools they need. The home page provides clear logos for customers to shop by brand, as well as image icons to indicate category selection. Whether someone arrives at CSHardware.com to shop for SOSS hinges or to browse a selection of decorative hardware, they'll find CS Hardware's website welcoming and helpful. A key new feature on the website is a live chat feature. Now customers can chat online with a customer service representative to get any questions or concerns answered promptly. The pop up chat window will be on every page, making it easy to open and start a conversation.
Ready to assemble kitchen cabinets are one of the main product CS Hardware is recognized for due to their large selection and fast shipping times. The new RTA cabinet ordering page allows customers to narrow down their cabinet selection through an easy to navigate landing page. The cabinet section of CS Hardware is much more than just a place to shop. CS Hardware has posted free installation videos to help whether you're looking before you buy or after to get assistance. In addition to the live chat feature, the CS Hardware team is available via telephone to talk customers through any road bumps they may encounter. Contractors can work with CS Hardware on a contractor discount program. With more than 30 ready to assemble cabinet designs available, the new cabinet page highlights the most popular top sellers, cabinets that are the best value for the price, and the option to shop by color or panel style.
CS Hardware is known for their rolling library ladders, rolling barn doors, and hidden door storage in addition to their popular RTA cabinets. The company manufactures their ladders, rolling doors and InvisiDoor hidden bookcase door as well as other hidden storage pieces domestically in a local Wisconsin factory. The rolling barn door page was also redesigned to highlight the many options available to customers. A strong proponent of the American made movement, CS Hardware is pleased to offer these products at a competitive price. Last year CS Hardware also rolled out an American made RTA cabinet.
---
For over 30 years, Custom Service Hardware has been committed to providing their customers with quality products at great prices. CSH maintains a large inventory of major brands of hardware (over 25,000 products), including a full line of ready-to-assemble cabinets. With 60,000 square feet of warehouse space and 35 full-time employees, CSH has become a leader in the wholesale hardware industry. For more information, you can visit their website at http://www.cshardware.com. You can also reach them at service(at)cshardware(dot)com or by phone at (800) 882-0009.