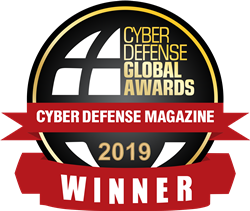 "Judged independently by a worldwide panel of cybersecurity experts, the award seeks to recognize the next generation cyber defense trends and trendsetters." Mr. Cesar Pie, President and CEO
ROCKVILLE, Md. (PRWEB) October 10, 2019
CSIOS Corporation announced today it was awarded the Cyber Defense Global Award® for Best Cybersecurity Service Provider of the Year 2019.
Annually sponsored by Cyber Defense Magazine®, the award seeks to honor leading cyber defense innovators around the world. With thousands of cyber defense companies worldwide boasting their best executives, teams, products and services, the sought after Cyber Defense Global Awards® is recognized as one of the most prestigious international awards in the cybersecurity industry.
Winners of the coveted award, which is now in its seventh year, will be recognized at the Digital Transformation Expo Europe in London on October 9–10, 2019.
"At CSIOS, we have taken unique steps to continuously improve our award winning cyber services. First, we baked–in our cyberspace operations and cybersecurity services with applicable U.S. Executive, National, and Federal requirements, as well as specific risk management strategies and best practices such as Risk management Framework (RMF) and NIST Cybersecurity Framework. Second, we matured our services by overlaying handpicked models, standards, and methods such as Capability Maturity Model Integration (CMMI), International Organization for Standardization (ISO), Information Technology Infrastructure Library (ITIL), Agile, and DevSecOps. Finally, we applied our own proven signature for operationalization (i.e., know—what—how—where—why) to fuse our cyber services with proven cybersecurity principles such as defense–in–depth, layered defenses, mission relevant cyber terrain prioritization, attack surface target reduction, domain separation, process isolation, abstraction, resource encapsulation, least privilege, data hiding, modularity, simplicity, adaptation, and operational resiliency. The end result: regulatory—compliant, mission—ready, and made–to–measure matured and customized cyber solutions that have not only raised the bar; they have unlocked a never seen before service delivery—level that is rapidly changing the expectations of the U.S. Government and defining an unmatched blueprint for provisioning next generation cyber services," said Cesar Pie, President and CEO of CSIOS Corporation.
Mr. Pie added, "Judged independently by a worldwide panel of cybersecurity experts, the award seeks to recognize the next generation cyber defense trends and trendsetters. It is an honor to be part of this distinguished group, to take part in this event, and to receive this award on behalf of CSIOS Corporation."
Details about the 7th Annual Cyber Defense Global Awards® and the list of 2019 winners are available at http://cyberdefenseawards.com/cyber-defense-global-awards-winners-for-2019.
About Cyber Defense Global Awards
This is Cyber Defense Magazine's seventh year of honoring InfoSec innovators from around the globe. Our submission requirements are for any startup, early stage, later stage or public companies in the INFORMATION SECURITY (INFOSEC) space who believe they have a unique and compelling value proposition for their product or service. In this program, we are particularly interested in highlighting cybersecurity companies who have a presence outside of the USA and/or a more global focus. Learn more at http://www.cyberdefenseawards.com
About Cyber Defense Magazine
With over 2 Million annual readers and growing, and over 8,000 pages of searchable online infosec content, Cyber Defense Magazine is the premier source of IT Security information. We are managed and published by and for ethical, honest, passionate information security professionals. Our mission is to share cutting-edge knowledge, real-world stories and awards on the best ideas, products and services in the information technology industry. We deliver electronic magazines every month online for free, and limited special editions exclusively for the RSA Conference USA, Black Hat USA and IPEXPO Europe. CDM is a proud member of the Cyber Defense Media Group. Learn more about us at http://www.cyberdefensemagazine.com and visit http://www.cyberdefensetv.com and http://www.cyberdefenseradio.com to see and hear some of the most informative interviews of many of these winning company executives.