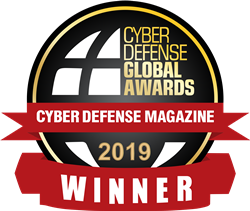 "This award is not only a wonderful acknowledgement of our efforts, but also a powerful validation of CSIOS' visionary blueprint for Defensive Cyberspace Operations." Mr. Cesar Pie, President and CEO
ROCKVILLE, Md. (PRWEB) October 10, 2019
CSIOS Corporation announced today it was awarded the Cyber Defense Global Award® for Best Defensive Cyberspace Operations Service Provider of the Year 2019.
Championed by Cyber Defense Magazine®, the Cyber Defense Global Award® seeks to honor leading cyber defense innovators around the globe.
"To build a safer future in the cyberspace domain, CSIOS management has committed to ongoing research and development, adoption of innovation, and evolution through modernization. Our linchpin: a next generation of DCO operators educated and trained to understand the importance of intelligence, operations, and C5 collaboration," said Cesar Pie, President and CEO of CSIOS Corporation. Mr. Pie added, "At CSIOS, we are harnessing technologies and training our cyber defenders to integrate meaningful and relevant intelligence, operations, and C5 through machine learning, artificial intelligence, and data science. This award is not only a wonderful acknowledgement of our efforts, but also a powerful validation of CSIOS' visionary blueprint for Defensive Cyberspace Operations."
Winners of the 7th Annual Cyber Defense Global Awards® will be distinguished at the Digital Transformation Expo Europe in London on October 9–10, 2019.
The list of 2019 winners are available at http://cyberdefenseawards.com/cyber-defense-global-awards-winners-for-2019/.
About Cyber Defense Global Awards
This is Cyber Defense Magazine's seventh year of honoring InfoSec innovators from around the globe. Our submission requirements are for any startup, early stage, later stage or public companies in the INFORMATION SECURITY (INFOSEC) space who believe they have a unique and compelling value proposition for their product or service. In this program, we are particularly interested in highlighting cybersecurity companies who have a presence outside of the USA and/or a more global focus. Learn more at http://www.cyberdefenseawards.com
About Cyber Defense Magazine
With over 2 Million annual readers and growing, and over 8,000 pages of searchable online infosec content, Cyber Defense Magazine is the premier source of IT Security information. We are managed and published by and for ethical, honest, passionate information security professionals. Our mission is to share cutting-edge knowledge, real-world stories and awards on the best ideas, products and services in the information technology industry. We deliver electronic magazines every month online for free, and limited special editions exclusively for the RSA Conference USA, Black Hat USA and IPEXPO Europe. CDM is a proud member of the Cyber Defense Media Group. Learn more about us at http://www.cyberdefensemagazine.com and visit http://www.cyberdefensetv.com and http://www.cyberdefenseradio.com to see and hear some of the most informative interviews of many of these winning company executives.