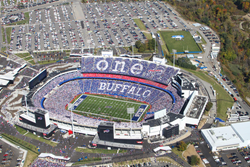 Carousel did a very good job of recognizing the scope of what had to get done in a very short period of time and applied all the necessary resources to make that a reality
Buffalo, NY (PRWEB) September 17, 2015
Carousel Industries, a leader in unified communications, managed services, data solutions and visual communications, announced the completion of a comprehensive wireless integration at the Buffalo Bills' Ralph Wilson Stadium that enables fans to stay connected online while enjoying a live fan experience. The integration, unprecedented in size, gives fans the best of both worlds and was completed in time for the season's opening game on September 13th.
Ushering historic Ralph Wilson Stadium into the next generation
The new wireless integration follows a $130 million infrastructure renovation completed last year and takes the overall fan experience to the next level: "We want coming to Ralph Wilson Stadium to be an attractive choice for people to experience live football and other events. In order to deliver this within the existing location, which has become an important part of the community, the next logical step was to put Wi-Fi in place for all of our fans," comments Dave Wheat, Chief Administrative Officer, Buffalo Bills.
The new wireless network was put to the test last Sunday at the season opener. With over 70,000 people in attendance, the Bills emerged victorious against the Indianapolis Colts. During Sunday's game the wireless system registered more than 24,000 unique visitors, meaning over 37% of fans used the new network.
"Our primary driver was to ensure that fans would be able to use their mobile devices with Wi-Fi performance similar to their experience at home — whether they are connecting to Facebook, Instagram, Twitter, reviewing game stats or just texting and emailing their friends and family. Therefore, broad and robust Wi-Fi connectivity was an enormous and essential component of our broader upgrades," adds Wheat.
"Carousel Industries was brought into the project in large part because of the company's managed services expertise, as well as its experience in large sports facility integrations in New England and other regions," says James Marsh, Chief Revenue Officer of Carousel Industries. "Our knowledge and skillset spans project management, engineering and integration, and of course ongoing managed services, to help our clients ensure smooth operations long after the installation is complete. In this case we worked closely with our partner, Extreme Networks, which provided best of breed wireless equipment and an invaluable degree of testing and wireless engineering expertise."
"Extreme Networks is proud to deploy our wireless solution in Ralph Wilson Stadium and work with Carousel Industries to deliver free, uninterrupted Wi-Fi to over 70,000 fans," said John Brams, Director of Sports & Entertainment at Extreme Networks. "Through our work with large sports venues, we've seen the crucial role reliable Wi-Fi plays in how people watch a live game. Whether they're trying to find the latest stats on a favorite player or sharing a video of the game-winning touchdown, Extreme's priority is ensuring Bills fans have the support they need to completely immerse themselves in their game day experience."
The new Wi-Fi integration delivers a world-class experience to fans. "For this round of renovations, we focused on the fan and explored what we could do to enhance their experience — because this hadn't changed much in the last 40 years," explains Wheat.
Entering a new era of innovation and connectivity
With the installation complete, fans attending Ralph Wilson Stadium are able to experience a full range of powerful wireless connectivity. The new system also enables the Bills to connect with its fans in new ways: "We have a Buffalo Bills app, and now that the Wi-Fi is in place, we can unlock some of the features that we haven't been able to use before," says Wheat. "For example, we are working on a system that will help identify wait times at the different gates, so fans can plan their stadium arrival more efficiently. We are planning on rolling out many other things, such as in-stadium discounts and other promotions available through the app."
Wheat is quick to characterize Carousel's contribution to making all of this possible. "I've been involved in large scale projects before where the integrators didn't recognize early enough how significant the challenges were, and we were backed into a corner. In this case Carousel did a very good job of recognizing the scope of what had to get done in a very short period of time and applied all the necessary resources to make that a reality."
Music fans also benefit from the new Wi-Fi experience: "Before we did this round of renovations, it had become somewhat difficult for us to host concerts," Wheat says. "So the upgrades that we made, while important for football, were also important for these other events that require an immense amount of technology and special effects. The venue has since hosted The Rolling Stones as well as One Direction. Without the massive technology and Wi-Fi renovations that Carousel delivered, these types of events would not have been possible," he says.
How Carousel and Extreme brought world class Wi-Fi to 70,000
The program required at least two active connections per person, which meant potentially 140,000 simultaneous internet connections. The design called for seamless, safe and aesthetically invisible wireless connectivity. In a 42-year old concrete structure with roughly 1,000 access points (APs), this was a very complex operation.
The integration utilized three tractor-trailers of equipment, containing approximately 1,000 APs, 2,000 antennas, 500 switches and 315,000 feet of cable. In a lower bowl constructed almost entirely of concrete, installing each AP entailed removing the seats, cutting the concrete, pulling the cables, re-sealing them and replacing the seats. Two different types of Extreme outdoor APs were deployed, both designed to handle mission critical applications and withstand the harsh Buffalo winters. In four weeks, the team sawed and water-sealed approximately 5,000 feet of concrete in 43 of the lower sections.
Throughout the project, which finished two weeks ahead of schedule, the team had several opportunities to test the new Wi-Fi coverage - including a Rolling Stones concert and three pre-season football games. During each testing phase experts from Extreme, Carousel and the Bills ensured that the facility received Wi-Fi coverage as intended. The equipment worked flawlessly.
To learn more about Carousel Industries' solutions, please visit http://www.carouselindustries.com/solutions/data-technologies/wireless-networking
About Carousel
Carousel Industries consults, integrates, and manages technology solutions that solve business problems and contribute to your organizations' growth. This includes unified communications, managed services, virtualization, Voice over IP (VoIP), video conferencing and collaboration and data infrastructure solutions.
Today we have over 6,000 customers, including 35 of the Fortune 100. Carousel has been recognized by both VAR and CRN Magazines as one of the top technology integrators in the US and we've been listed in the Inc. 500/5000 seven times. Carousel is headquartered in Exeter, RI, with over 1,000 employees working from offices in 30 locations across the US, including over 250 service technicians deployed across the country. For more information visit: http://www.carouselindustries.com