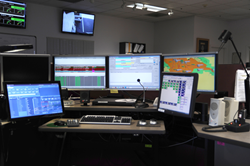 Carousel managed both the legacy call taking platform and new system during our cutover to ensure a smooth transition. Additional staff was added to accommodate this period and Line by line, the system cutover as planned.
Exeter, RI (PRWEB) March 09, 2015
Carousel Industries, a leader in unified communications, managed services, data solutions and visual communications, announced it was selected to provide the new VESTA 9-1-1 system for the Contra Costa Regional Fire Communications Center in California, one of the largest secondary communications centers in this technology-savvy, Bay area county. Contra Costa Fire is outfitted with a nine-position, Airbus VESTA call taking system that resides on a dedicated network, facilitating a robust, versatile and multi-functional 9-1-1 calling environment to serve the county's million-plus residents. The migration was completed within a six month timeframe and brings more efficient call routing capabilities, increased redundancy, enhanced interfaces and improved audio quality. The new system allows the Contra Costa Regional Fire Communications Center to provide more expedient 9-1-1 response services.
"Our current technology was rock solid for many years, but it was 25 years old," said Kody Kerwin, Telecommunications Manager at the Costa Contra Regional Fire Communications Center. "As the market evolved, we began to acknowledge that newer technologies could provide much greater benefits by way of function, maintenance, and stability."
The county was tasked with identifying what next generation technology would deliver the quality-of-service and increased capability to justify a new investment. It needed a reliable partner to take responsibility over the complex transition from their previous VESTA system, since county personnel established up-front that it could not manage the details of the IT installation in-house.
The county required access to real-time data that could be more quickly relayed and routed to the appropriate operators. Elements such as a superior recording infrastructure, and high-quality voice and audio fidelity were a must for the County. In addition, they sought out powerful analytics and data reporting, to review call histories that would confirm that agents were as responsive and accountable as possible.
Carousel was contracted a month into Contra Costa County's selection process, once the company settled on a favored vendor and system. Carousel's expertise in large-scale, mission-critical VoIP call center installations came highly recommended by other municipalities and local entities with whom the county consulted.
"We put a huge responsibility into Carousel's hands, requiring them to outline and oversee the entire project. They came through tremendously," added Kerwin. "We stated from the get-go that our staff could not accommodate project management of the engagement. We relied on Carousel's extensive knowledge and diligence to make this a successful deployment throughout. They were vigilant in setting and meeting each required project milestone."
Carousel brought in experienced technicians, providing Contra Costa Fire with an array of experts to familiarize themselves with the center's overall communications network and build a dependable community of consultants for the office.
"It was critical to create a strong, ongoing relationship with IT personnel at Contra Costa County, to make sure they were informed and engaged in the process at every point, without having to drive its progress themselves," said Dan Grossman, Director, Public Safety Solutions, Carousel Industries. "We work closely with our clients from the start and develop a mutually agreed upon scope of work that delineates our deliverables. We then make good on that timeline. This instills trust and drives a cooperative process ensuring successful cutover."
Beyond the inherent redundancies of the infrastructure itself, the new VESTA system allows Contra Costa to integrate with neighboring fire and sheriff's departments that have deployed similar platforms. If anything were to hinder agents from occupying the Contra Costa facility, such as an environmental threat like a gas leak, operators would be able to carry on from the nearby San Ramon Valley Fire Department and Contra Costa County Sherriff's department. "The interoperability of the system is vital. It means we will always have a contingency plan. The new system that Carousel designed and implemented accomplishes this seamlessly."
Given the mission critical nature of Public Safety a seamless system cutover was important to the county to assure there were no interruptions to the live 9-1-1 center. "When they began validating lines, we became genuinely excited. We realized the impact of what they were able accomplish with minimum interruption. Carousel managed both the legacy call taking platform and new system during our cut-over to ensure a smooth transition. Additional staff was added to accommodate this period and Line by line, the system cutover as planned."
"We're proud of the system and what we've been able to accomplish as far as upgrading our capabilities and allowing us to serve our community as best as possible," concluded Kerwin. "We want to educate our residents on what's involved in maintaining an agile, state-of-the-art 9-1-1 facility. A cutting-edge communications system lends itself well to that."
To learn more about Carousel Industries, please visit http://www.carouselindustries.com. To learn more about Carousel Industries' Public Safety Solutions, please visit: http://www.carouselindustries.com/industry-solutions/public-safety.
About Carousel
Carousel Industries consults, integrates, and manages technology solutions that solve business problems and contribute to your organizations' growth. This includes unified communications, managed services, virtualization, Voice over IP (VoIP), video conferencing and collaboration and data infrastructure solutions.
Today we have over 6,000 customers, including 35 of the Fortune 100. Carousel has been recognized by both VAR and CRN Magazines as one of the top technology integrators in the US and we've been listed in the Inc. 500/5000 seven times. Carousel is headquartered in Exeter, RI, with over 1,000 employees working from offices in 30 locations across the US, including over 250 service technicians deployed across the country. For more information visit: http://www.carouselindustries.com