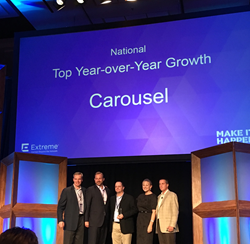 Carousel's growth has been the result of delivering business value to our customers through best of breed services based on the latest technology from key partners like Extreme
Exeter, RI (PRWEB) November 06, 2015
Carousel Industries, a leader in unified communications, managed services, data solutions and visual communications, announced that it has been awarded 'Top National Year-over-Year Growth' by Extreme Networks. The award comes as a result of Carousel tripling its revenue with Extreme and recognizes Carousel as having achieved the highest year-over-year growth among Extreme Networks' national partners.
"On behalf of the entire Carousel team, we are extremely proud of having achieved the Top Growth Award and are truly grateful to work alongside an industry leader like Extreme Networks," commented Jim Marsh, Chief Revenue Officer, Carousel Industries. "As the scale and scope of our integrations increase and run across a diverse range of vertical markets, our customers require innovative, flexible and reliable solutions. Carousel's growth has been the result of delivering business value to our customers through best of breed services based on the latest technology from key partners like Extreme."
"We congratulate Carousel Industries on its continued success with Extreme Networks," commented John Fahmy, Director of Strategic Accounts for Extreme Networks. "Carousel has been a key partner for Extreme, taking full advantage of our partner programs and leading software-driven solutions. Together, Carousel and Extreme have achieved a value-driven customer focus in 2015."
A Visionary Partner with Trailblazing Solutions
This year, there were several key integrations spearheaded by Carousel using Extreme technologies that contributed to this tremendous growth. Following a massive wireless integration of the Buffalo Bills' 71,870-seat Ralph Wilson Stadium, the two companies achieved several record-breaking statistics using Extreme's Stadium 2.0 solution – including the most connected fans at one time and the most unique devices connected on game day, all while providing strong and reliable wireless connectivity.
Carousel also worked alongside Extreme Networks to help Oral Roberts University realize its ambitious vision of creating a 'digital society'. This implementation enables students to experience the full breadth of a physical campus anywhere in the world via trailblazing technologies such as telepresence robots.
"Our work with Extreme Networks is helping customers break through traditional frontiers and enabling more innovative, revenue-generating applications of wireless technology," said Brad McCain, Sr. Director of Data Solutions Group, Carousel Industries. "As a company, we are very proud of what we have achieved with Extreme — but we are even more excited about what is possible moving forward as our customers take their own businesses to the next level."
To learn more about Carousel Industries' solutions, please visit http://www.carouselindustries.com/solutions/data-technologies/wireless-networking
About Carousel
Carousel Industries consults, integrates, and manages technology solutions that solve business problems and contribute to your organizations' growth. This includes unified communications, managed services, virtualization, Voice over IP (VoIP), video conferencing and collaboration and data infrastructure solutions.
Today we have over 6,000 customers, including 35 of the Fortune 100. Carousel has been recognized by both VAR and CRN Magazines as one of the top technology integrators in the US and we've been
listed in the Inc. 500/5000 seven times. Carousel is headquartered in Exeter, RI, with over 1,000 employees working from offices in 30 locations across the US, including over 250 service technicians deployed across the country. For more information visit: http://www.carouselindustries.com