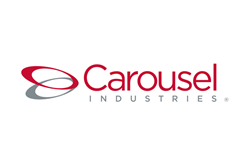 The sessions, which will be led by Carousel's own subject matter experts and are open to all registered attendees, will cover topics including IT security, virtualization, and 'The New Contact Center'
Exeter, RI (PRWEB) June 09, 2015
Carousel Industries, a leader in managed services, video, data and collaboration solutions, announced that it will once again be hosting strategically focused breakout sessions during this year's IAUG CONVERGE 2015, scheduled to be held between June 14th and June 18th at the Colorado Convention Center in Denver. The sessions, which will be led by Carousel's own subject matter experts and are open to all registered attendees, will cover topics including IT security, virtualization, and 'The New Contact Center', detailed as follows:
How Secure Is Your Threat Landscape? A View into 'Day 2' of Your UC Voice/Video Integration
[June 14, 2015 between 3:00 p.m. and 4:00 p.m., room 406]
From Homeland Security to Home Depot, security threats are a serious hazard in today's IT landscape. Join presenters Vishal Nanda, Team Lead System Engineer and Tom Herr, Lead Architect of SIP Solutions, both of Carousel Industries, as explain how organizations can take the first steps towards moving from a traditional cloud system to deploying an open environment, integrating voice and video - all while being compliant. Best practices for overall security architecture in a UC environment will be covered, as well as what 'Day 2' looks like for ongoing security management. Presenters will offer insights on network access control, Voice IPS and attack visibility, SIP, securing a virtual voice environment and more.
Avaya and VMWare - Better Together: Tips from the Experts on Virtualization
[June 15, 2015, between 9:45 a.m. and 10:45 a.m., Room 207]
Part of the Enterprise Communications Track, this session will be led by Tony McQueen, Director UC & Collaboration, Carousel Industries, and will be an in-depth follow up to last year's session instructing attendees how to overcome the 'virtualization fear factor'. This year's session features an overview of best practices for successful virtualization deployment, as well as expert advice on how businesses can make the most of a virtualization solution once decision makers are ready to move forward with adoption. The presentation will also cover specific issues such as how to maintain proper patching and upgrades in a virtual environment, appropriate resource management and how to spot the red flags in real-world scenarios.
Flat, Consolidated and Global in Nature: Today's New Contact Center Model
[June 16, 2015, between 9:30 a.m. and 10:30 a.m., room 401]
Rene Gut, Contact Center Solutions Consultant of Carousel Industries, will co-present this important session on the Customer Connections track, which explores the benefits of deploying a 'flattened, consolidated and extended' (FCE) call center model. Carousel will be co-presenting with Calabrio and LogisticCare, a Carousel customer, to explore how a real-life contact center deployment combined disparate phone systems into a single platform, centralizing operations and reducing costs. The session will feature an interactive Q&A session and feature practical advice from a customer's perspective.
For information on the IAUG conference, including additional details on these training seminars, please visit the IAUG website. For more information on Carousel Industries, please visit http://www.carouselindustries.com.
About Carousel
Carousel Industries consults, integrates, and manages technology solutions that solve business problems and contribute to your organizations' growth. This includes unified communications, managed services, virtualization, Voice over IP (VoIP), video conferencing and collaboration and data infrastructure solutions.
Today we have over 6,000 customers, including 35 of the Fortune 100. Carousel has been recognized by both VAR and CRN Magazines as one of the top technology integrators in the US and we've been listed in the Inc. 500/5000 seven times. Carousel is headquartered in Exeter, RI, with over 1,000 employees working from offices in 30 locations across the US, including over 250 service technicians deployed across the country. For more information visit: http://www.carouselindustries.com