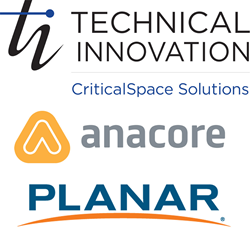 CriticalSpace Solutions integrates these technologies as a single system, providing scalable solutions from a single display Multitouch solutions to multiscreen videowall where various groups can simultaneously interact with content...
Atlanta, Georgia (PRWEB) October 02, 2014
The 2014 Homeland Security Week focuses on crucial areas for the DHS and other homeland security related organizations, including Science & Technology, Counterterrorism, Border Management & Immigration, Cyber Security, and Disaster Relief & Emergency Preparedness. Partnering with Planar and Anacore, TI CriticalSpace Solutions (CSS) will demonstrate an integrated Collaborative Multi-touch experience, by using Commercial Off-The-Shelf (COTS) components in unison with software that delivers tactile immersive Situational Awareness (SA).
CriticalSpace Solutions will be exhibiting a Planar Multi-touch videowall integrated with Anacore Synthesis, a Multitouch / Interactive and collaborative software solution. Planar's second generation ultra-narrow bezel multi-touch LCD videowall, with a screen to screen gap of 3.7mm and rack mounted electronics, provides the ideal viewing and interactive user experience for the software.
Synthesis is a network centric solution and purpose built platform that supports the highest levels of conceptualization, visualization and collaboration, condensing project timelines from Concept to Completion. It leverages the latest multi-touch technology, integrates seamlessly with current VTC infrastructures as well as the latest productivity solutions in the market today. Capable of utilizing a private cloud or a hosted cloud for interconnecting multiple facilities and/or disparate organizations, Synthesis provides users the ability to interact with our integrated browser function, documents, videos, data, and live sources while allowing for on-screen annotation, content sharing from personal devices, as well as access to internal or external cloud sources. "Our solution connects users in geo-disparate locations, giving project teams a holistic vantage point in all process phases and steps in critical thinking, igniting the cultivation of collective intelligence," says John Gollnick, Anacore Sales Manager for Synthesis.
"CriticalSpace Solutions integrates these technologies as a single system, providing scalable solutions from single display Multitouch solutions to multiscreen videowall," says Jason Jaworski, CSS Project Development Federal Market, "where various groups can simultaneously interact with content and develop Situational Understanding (SU) and Situational Management (SM)." The solution is architected to support multiple site collaboration, allowing multiple agencies to collaborate regardless of geographic location, facilitated through on- or off-premise hosted services.
About Technical Innovation CriticalSpace Solutions
CriticalSpace Solutions provides turn-key, design-build advanced visualization spaces within mission critical environments that allow operators to instantaneously disseminate critical data, increasing response times through enhanced situational awareness. With an in-depth knowledge of the unique operating and security environments of the Federal Government, the CSS Federal Team delivers accredited, secure solutions that meet government operational and functional requirements. Providing turn-key design/build services including consultation, system design & integration, installation, project management, custom software development and system training, CSS offers a global portfolio, unparalleled expertise and the security and wherewithal of Technical Innovation, a technology leader for over 75 years.
For more information about CriticalSpace Solutions, visit http://www.ticss.net