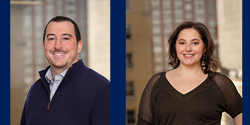 "Our standard for a quality sales candidate comes with a proven track record of tremendous success. ProSearch operates like a retained search firm at a contingent fee," says Abby Prince, Managing Director, CSS ProSearch
MOUNT LAUREL, N.J. (PRWEB) May 29, 2019
CSS ProSearch proudly announces the promotion of employees Stephanie Staiano and Brian Bogle. CSS ProSearch is recognized for nationally placing top sales and marketing talent for clients, which directly affect their clients' growth. The team has grown by 15% year after year and continuously looks for opportunities to improve daily operations and advance the development of each employee.
Since 2013, Stephanie Staiano has been a National Account Executive and has successfully brought in new business, which has, in turn, converted to numerous, excellent client and candidate testimonials. Stephanie was promoted to National Sales Director in early April. Her new role not only includes continuing to manage her clients and drive sales, it also includes managing a team of recruiters and sales representatives who will help to support many future successful searches.
Since 2015, Brian has demonstrated all the operational core competencies of the ProSearch team. Brian was promoted from Senior Search Consultant to Recruiting Manager at the beginning of January. This promotion has come with managing and advising a team of Sourcers / Recruiters to support the continued growth of CSS ProSearch.
These promotions are evidence of the growth of CSS ProSearch and the strong skillsets of both Stephanie and Brian. The team is committed to the training and development of all its employees so they can specialize in the placement of phenomenal sales candidates within the Healthcare, Technology, and Consulting industries. CSS ProSearch continues to exceed expectations: as of last quarter, they reached their highest quarterly revenue to date. Due to their success, ProSearch is not only promoting top employees, but looking to hire great talent to join the team and help drive success.
CSS ProSearch has achieved their success by upholding their high standards: "Our standard for a quality sales candidate comes with a proven track record of tremendous success. You will receive a regular update giving you business intelligence from the field. ProSearch operates like a retained search firm at a contingent fee," says Abby Prince, Managing Director, CSS ProSearch, a Contemporary Staffing Solutions Company.
ProSearch doesn't want you to just take their word—their clients can attest to the level of professionalism and business knowledge of the ProSearch team:
"I would not only recommend CSS ProSearch as a top-notch recruiting agency to help find candidates for open positions, but I would also recommend them to anyone I know who is actively pursuing a position. They take the time to listen to me and the qualifications that I am looking for in candidates to fill a specific position. My company is always…want[s] sales leaders that are high achievers, goal oriented, strong closers and winners, not always the easiest people to find but somehow CSS ProSearch gets it done," says the Regional Sales Director of a Biotech client.
About CSS ProSearch:
CSS ProSearch focuses on boosting clients' organizational performance, sales effectiveness, and growth by transforming the culture of our clients from the one they have to the one they want. They do this through identifying professional sales candidates with the right motivations, core competencies, proven leadership skills, and cultural fit to achieve an organization's strategic goals. If you hire your next President Club winners and encourage peer-to-peer example setting of forecasting and closing new business, then the bar for performance will raise itself. CSS ProSearch contributes to building diverse teams, creating an inclusive culture, promoting creativity, increasing employee engagement, and not only attracting, but retaining, the right talent.