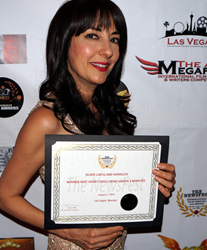 It's an honor to receive this news award. I enjoy creating films and shows that inform the public and have the potential to help others.
LOS ANGELES (PRWEB) August 06, 2019
CSUN psychology professor Dr. Luciana Lagana won the Best Short Documentary News Under 5 Minutes Award at the Newsfest International Film Festival in Las Vegas with the trailer of her latest anti-bias feature documentary. This movie, OLDER, LGBTQ, AND HOMELESS, is one of several anti-bias research films created by Dr. Lagana. In her CSUN Behavioral Medicine Laboratory, her research team conducts randomized controlled trials that involve the innovative use of her original films to test their potential anti-bias impact on their viewers (hundreds of college students).
From the festival's website - The NewsFest is an exciting opportunity for News Professionals to present their work to an international audience.
The film (self-financed by Dr. Lagana) contains compelling and often emotional interviews with older sexual and gender minorities who live in transitional housing in Los Angeles. It took Dr. Lagana over a year to complete this feature documentary, due to her full work schedule as a busy professor and government-funded researcher focusing on improving the health of older women from diverse ethnic backgrounds.
Dr. Lagana received a small grant (in the form of release time from teaching a class) from Valley Nonprofit Resources (VNR) at CSUN, which helped carve some time in her work schedule to dedicate to creating, directing, and producing this film. As described on the website, VNR started in 1961 and was operated until 2014 by the nonprofit Human Interaction Research Institute (HIRI) under the leadership of its President, Dr. Thomas Backer. "It's an honor to receive this news award. I enjoy creating films and shows that inform the public and have the potential to help others," shared Dr. Lagana.
Dr. Luciana Lagana has multiple doctoral and post-doctoral degrees and specializations in experimental and clinical psychology. For about 20 years, she has been an established full-time CSUN professor of Psychology, Women's Health, Gerontology, and Sexuality. She enthusiastically teaches classes and mentors many undergraduate and graduate students from several CSUN departments. Moreover, since 2002, she has been conducting NIH-funded research on ethnically diverse, mainly low-income older women's physical, psychological, social, and sexual health. Dr. Lagana has accumulated 45 peer-reviewed publications and has delivered over 100 conference presentations. She won the 2017 CSUN Exceptional Creative Accomplishments Faculty Award for her anti-bias feature films and shows, as well as the 2011 Preeminent Scholarly Publications Faculty Award and the 2008 Visionary Community Service Learning Faculty Award. Concerning her artistic pursuits, she was a child performer (singing, dancing, acting, and modeling) and was part of a touring theatrical company in her late teens in Italy. She also studied acting, hosting, and filmmaking in Los Angeles where, after studying film production in 2013 under the mentorship of Prof. Nate Thomas (the Director of the Film Production Option in the CSUN Department of Cinema and Television Arts), she started creating, directing, and producing several social impact films and series. She is an actor/host/screenwriter/director/producer with over 30 film festivals' wins listed on IMDb and more than 50 IMDb credits for acting in films, TV shows, and web series.