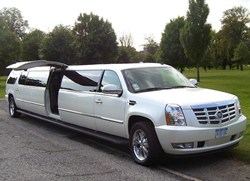 Being able to reach out to a bigger demographic who want this beautiful limo for larger events and occasions is what we aim to offer. Affiliates and clients reach out to us on a daily basis to use our Connecticut Cadillac Escalade Super Stretch Limousine.
Fairfield, CT (PRWEB) July 31, 2013
In regards to leading Cadillac Escalade limousines in CT, limousine services in CT is proud to offer the stunning Cadillac Escalade to the Tristate areas. The CT Escalade 18-passenger Super Stretch limousine is not always accessible; CT limo has opened its availability to surrounding states to better accommodate the masses for this exotic limousine. These locations include:

New York
New Jersey
Boston
Washington DC
Miami
Chicago
Luxury limousine services needed for a wedding day, a night out, an event or special occasion are in high demand and quality versus quantity is of utmost importance. Limousine rentals throughout Connecticut rely and take pride in customer satisfaction. Customer service and representatives are courteous, and provide quick quote to rent a CT Cadillac Escalade for that special day.
How CT Limousine Reaches Such a Big Demographic?
Being in business for almost 10 years, Limousine Services WorldWide aka Shadys Limo has broadened the horizons and traveled the globe. Base offices in Fairfield, CT run Connecticut but with the wide-ranging amount of affiliates located in the USA and internationally, http://www.shadyslimo.com can provide a first class Cadillac Escalade limousine experience. US states where passengers can enjoy a Cadillac Escalade Super Stretch Limousine for their special day includes states like California, Texas and Florida.
With the Escalade offering room for 18+ passengers, clients can sit comfortably no matter where there location is. The luxury Cadillac Escalade Super Stretch limousine offers customized packages that are personalized to each and every client. Escalade limo rentals in the Tristate come fully equipped, carrying stocked bars, LCD TV's, superior lighting systems that clients can control and an iPhone or iPod audio hook up system.
Renting the Cadillac Escalade limo for a wedding or Quinceañera comes with an exclusive package for clients. The wedding all-inclusive package is served with a complimentary bottle of champagne and red carpet service. Upon clients request, the choice of liquor beverages can also be included. Moreover, each Escalade limo will come with leather seating, spotless interiors and laser light shows that passengers can power. A Quinceañera all- inclusive package comes with the same requirements minus the alcohol.
The Escalade limousines can come in white, pearl or black and in some occasions, such vehicle can be used for airport service in CT strives to give the best possible service to clients. Whether they are traveling in Connecticut or the surrounding states, their trips, events, celebrations, weddings, wine tours or concerts traveling can go unparalleled. With state of the art booking and 24-hour availability, an Escalade limo rental in the CT and the Tristate areas is simple.
With the population density of metropolitan areas such as CT, NY, NJ & Mass, additional packages have become prevalent for the crowd and will carry on to propagate and suit the demand. The CT Cadillac Escalade Stretch Limousine can fit the look or be the core of any event and regardless of the occasion, it is a beautiful vehicle that captures the eyes of any onlooker. It makes its services a demand and can be delivered by contacting Limousine Services WorldWide.