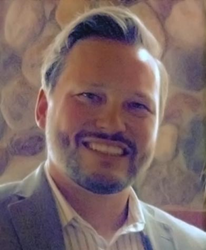 I believe if you want to become the best, you have to align yourself with the best.
Grand Rapids, MI (PRWEB) September 01, 2016
Converged Technology Professionals (CT-Pros) announced today the addition of Joe Dey, as Business Development Manager in the Grand Rapids, MI office.
CT-Pros continues to grow as a top ShoreTel partner delivering unified communications to businesses nationwide. As part of their growth strategy, Joe Dey is welcomed as the newest member of their sales team.
Converged is the top ShoreTel MRR partner for cloud sales in the US. Joe will be focusing on the Michigan market and will be responsible for promoting the adoption of ShoreTel's Connect Cloud solution among businesses in the regional area.
"We are excited to welcome Joe to our team. His proven skills and achievements confirms our commitment to disrupt this industry that is filled with a bunch of stale ownership," states Joe Rittenhouse, President of Business Development.
Joe's desire for helping small to medium sized businesses stems from an early age working alongside his father who was a professional builder. "By working with my dad as early as 10 years old, I saw first-hand the different challenges that many businesses go through, so it's something that I can really relate to at a personal level when talking with people."
When asked about his passion for sales he states, "I've always been competitive in sales which probably comes from being heavily involved in sports most of my life. I think there are a lot of correlations between sports and business." Referring to CT-Pros he explains, "I believe if you want to become the best, you have to align yourself with the best. It's not about just me, it's about the whole team."
About Converged Technology Professionals:
CT-Pros is a technology based consulting firm specializing in IT networking and unified communications solutions. They are one of the largest ShoreTel VARs in the Midwest with offices in Chicago, Milwaukee, Indianapolis, Grand Rapids, and Crystal Lake. In addition to receiving the 2015 Global Partner of the Year award, the company also earned the prestigious Elite Circle of Excellence status which is only given to the top 10 ShoreTel partners in the U.S. To learn more or to contact CT-Pros, please visit http://www.ct-pros.com.