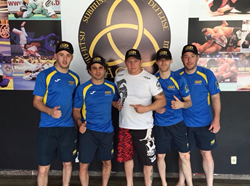 Decky McAleenan goes to Team Alpha fight camp in California with the help of CT1.
(PRWEB UK) 11 February 2015
CT1 The Snag List Eliminator, succinctly and eloquently depicts with accuracy the capability and confidence of CT1 sealants and adhesives to get the job done effectively and professionally.
The branding slogan personifies those sublime technical qualities that could be equally applied to human endeavour and potential. It transcends the banal and inferior by having proved in practice that it is a superior product and the best sealant solution available on the market. A direct link and parallel narrative can be drawn between this innovative and dynamic brand and the aspiration of C-Tec, the distributor, to pledge its inspirational support to a rising young sports star in the world of Mixed Martial Arts fighting - Declan Mc Aleenan.
When interviewed about his meteoric progress in the sport he spoke of his dream of becoming affiliated to the UFC and of achieving professional status. He articulated a burning ambition and personal dedication to rank among the world's best fighters at featherweight. In recognition of his natural talent, enthusiasm and potential CT1 has elected to help Declan achieve his life time dream by providing the financial support that will allow him to concentrate on training at a professional level with no inherent worries or distractions.
Blessed with a sense of realism combined with a true passion for Mixed Martial Arts combat, Declan sees himself knocking on the UFC door within five years. He travelled to Brazil in November 2014 with fire in his belly and an all consuming determination to be the best he can through intensive training with the world's greatest grapplers. On Friday 13th February 2015 he will train in California with Team Alpha Male, the world's best light weight team of Mixed Martial Arts fighting exponents. He is excited at the opportunity of gaining vital experience at that level and is in no way intimidated by the prospect of gruelling training schedules in preparation for the fights ahead.
Declan is supremely confident in his ability to overcome opponents on his journey to reaching UFC affiliation and professional status. When asked about his toughest opponent to date he recalled his fight with Gerrard Gilmore which he won with a submission in the final ten seconds of the third round winning him the Clan Wars Featherweight Amateur title. He is also proud holder of the ISKA Featherweight Northern Ireland Title. Declan's potential is put in perspective when he reminds us that Gerard Gilmore has since turned professional with a current record of two wins and zero defeats in the professional fight world. His triumph over such a challenging opponent has been forgotten but Declan's skill, tenacity and sheer talent shine like a beacon that will illuminate his path towards professional status and future fight success.
CT1 The Snag List Eliminator feel privileged and proud to sponsor a rising and inspirational star who is an admirable role model for all those young people aspiring to achieve life dreams and extend to Declan their best wishes for the future.