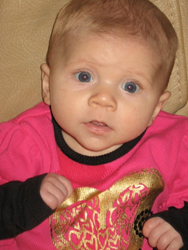 After 25 years of practice it is moving to see how the spirit of giving and social responsibility is inspiring our staff, parents, donors and surrogates... it really feels like everyone involved is 'catching the bug' of helping others become parents.
Bridgeport, CT (PRWEB) December 18, 2014
Even before officially launching the Lifelines program in 2011, Dr. Michael Doyle was known among the thousands he treated for his insistence to do "whatever it takes" to make them parents, often foregoing payment when their resources ran dry. The Lifelines program was formally established four years ago when CT Fertility marked its 20th anniversary. It was meant to annually donate services to support the family-building journeys of up to three families who faced extreme financial hardship or other extraordinary challenges. Supported by the CT Fertility's advanced egg freezing technology and wider service offerings, the number of prospective parents benefiting from the program increased gradually.
In 2014 twelve infertile couples benefitted from free medical services, fresh or frozen eggs, donated embryos, and even free matching with gestational carriers. In addition, two gay couples have been awarded free IVF services and eggs from the clinic's frozen egg bank as part of Men Having Babies' Gay Parenting Assistance Program (GPAP).
"CT Fertility's extensive Donor Egg Bank has helped us write the next chapter in the story of our Lifelines initiative," said Dr. Doyle. CT Fertility has been among the first IVF laboratories in the world to master the science of successfully freezing and thawing eggs using the rapid freeze technology. Still a relatively new concept, freezing eggs was only recently declared non-experimental though CT Fertility's egg bank has been effectively utilized for over 7 years and has resulted in the birth of over 60 healthy babies. Awarding free eggs to infertile or gay couples provides them with substantial cost savings and can even eliminate the donor stipend, her screening, treatment and medications. "Especially when people face severe medical challenges and repeated set backs, the immediate availability of hundreds of frozen eggs allows us to quickly adjust the course of treatment and move forward with 'Plan B'," said Dr. Doyle.
With the increase in the number of independent surrogates who approach CT Fertility for medical pre-qualification screening, the clinic was also in the position to introduce some of the Lifelines recipients to such gestational carriers, thereby allowing them to save a considerable portion of their surrogacy agency fees.
Todd and Rochelle were one such couple who received free surrogate matching services from CT Fertility this year and now look forward to their special delivery in 2015. "The medical care and expertise we received were incredible, but the hugs, support, kindness and genuine concern we received were equally as important. We were pleasantly surprised to find that a facility that caters to people from all over the world still had the ability to make us feel like we were their number one priority and your most important patients," said Todd.
The surrogate who carries the pregnancy for Rochelle and Todd was in fact also a multiple time donor at the program. Indeed other CT Fertility egg donors have also come back to the clinic to be considered as potential gestational carriers. "I think in particular our known egg donation protocols make the donors more motivated and personally invested in the process, ant it's no wonder that many of them progress or 'graduate' to fulfill other pro-family roles here including serving as surrogates, staff or patient advocates," said Dr. Doyle.
This culture of partnership, compassion and "paying it forward" that are the trademarks of CT Fertility also extends to a growing number of parents who donate their unused embryos in order to help others create their families. "It really feels like everyone involved is 'catching the bug' of helping others become parents," said Dr. Doyle. CT Fertility's donated embryo program offers a safe and affordable option for couples with limited financial resources or after multiple attempts to have their own biological children, including some of the Lifelines program recipients.
One parent who made the decision to donate unused embryos is Chris, who, along with his wife, had a child through IVF and egg donation. "Having had a very positive experience with CT Fertility and a great child as a result, we wanted to give other families the chance to experience the same delight that we had. To us it seemed like the obvious choice."
Another manifestation of the culture of partnership and care are the incidents in which some egg donors came back to the clinic years later due to general infertility issues in their families. As gratitude to their role in helping other families, CT Fertility often provides these women with free treatments as well. "I came to CT Fertility over three years ago, as a donor, with the intention of helping other families," reported one of them. "Bonding with not only those families, but the staff, made my experiences so magical. I knew there was a reason I ended up here, because with the help of CT Fertility I am now pregnant with our first baby through the process of IVF. I have had the pleasure of being on both sides of the situation: a donor and a soon-to-be-parent. Each experience, I was treated so special and the staff all knew me by name, offering the attention and compassion I needed."
"After 25 years of practice it is moving and personally rewarding to see how the spirit of giving and social responsibility is inspiring our staff, parents, donors and surrogates," said Dr. Doyle. "Indeed, at a time when we hear so many ugly stories that focus on the 'business side' of the reproductive medicine industry, CT Fertility's annual Lifelines initiative, social responsibility initiatives, recent Thanksgiving Food Drive, Embryo Donation program, and Freeze and Donate program are all part of much more affirmative, compassionate and empowered family building community."
For more information about CT Fertility please visit http://www.CTFertility.com
For more about CT Fertility's social responsibility initiatives: http://www.ctfertility.com/our-social-responsibility-initiatives