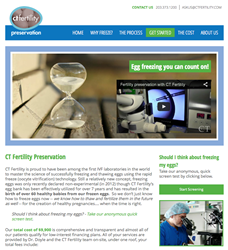 By making the process more accessible, affordable and secure, we hope to empower young women to do whatever they want to do, including embarking on long academic or career tracks without the fear of giving up their dreams of motherhood later on.
Bridgeport, CT (PRWEB) November 13, 2014
CT Fertility, a leading IVF, egg donation and surrogacy center, has launched the CT Fertility Preservation Network, a regional partnership of healthcare providers built around CT Fertility's successful egg freezing lab. The new venture's website was launched on November 11, and it was introduced in a webinar led by Dr. Michael Doyle, the medical director and founder of both CT Fertility and the new venture. The network will provide fertility preservation candidates from the Connecticut and the NY tri-state region the convenience of receiving most of the care locally, while still benefitting from the unparalleled skill and experience of CT Fertility's team of egg freezing pioneers.
CT Fertility has been among the first IVF laboratories in the world to master the science of successfully freezing and thawing eggs using the rapid freeze (oocyte vitrification) technology. Still a relatively new concept, freezing eggs was only recently declared non-experimental (in 2012) though CT Fertility's egg bank has been effectively utilized for over 7 years and has resulted in the birth of over 60 healthy babies from its bank of frozen donor eggs.
While freezing eggs for fertility preservation has become increasingly popular lately, it takes time before these eggs are actually (if ever) needed for the purpose of creating babies. "The few labs with the required technology and skills that have entered the fertility preservation field have mostly been freezing eggs," said Dr. Doyle, "but most of them have very little experience or track record in thawing these fragile eggs and achieving actual pregnancies, which is a completely different challenge."
In comparison, CT Fertility has been successfully freezing and thawing eggs since 2007, when the center recruited two senior embryologists that were part of the team that achieved the first pregnancy in the USA from vitrified eggs, led by Ed Stehlik, CT Fertility's IVF Lab Director. Since then the CT Fertility lab team have been able to increase the survival rate of their thawed eggs to 90%, by developing their own media and finely adjusting the timing of the freezing / thawing process based on careful assessment of each egg's viability, maturity and grade.
While initially concentrating on perfecting the egg freezing technique and using it to help infertile or gay couples who sought egg donation, Dr. Doyle now sees a huge potential to use the technology safely, effectively and ethically in proactive ways to prevent infertility rather than treat it. "If used well with the suitable candidates, fertility preservation can be a tremendous vehicle to greatly expand women's reproductive choices," said Dr. Doyle.
The innovative model for the CT Fertility Preservation Network is meant to improve on that of the prevalent non-physician led referral agencies, which simply direct potential clients to the nearest fertility center that has paid to join their network. "We think that arbitrary geographical location is an insufficient criteria, given how rare the required skills are, though we do recognize the need to keep the process accessible and affordable," said Dr. Doyle. "We are therefore developing a growing network of health care providers from across the region who will manage the screening tests and the necessary local monitoring. The client will then only have to visit our lab once for the egg retrieval and on the same day, the more delicate procedure of freezing. This will offer a minimally disruptive process without compromising on quality and long-term results."
This partnership model allows the clinic to provide a comprehensive package, which includes all the treatments and medications involved, for a low flat rate of $9,900. Furthermore, the clinic's confidence in its skill and expertise also allows it to offer qualified clients a unique 8 egg guarantee, which means that if for whatever reason they have less than 8 eggs harvested and frozen, their next retrieval will be done free of charge. "By making the process more accessible, affordable and secure, we hope to empower young women to do whatever they want to do, including embarking on long academic or career tracks without the fear of giving up their dreams of motherhood later on," said Dr. Doyle. He also points out that when women in their 20's preserve their eggs, the results are not only better later on (both in quantity and quality) but that the process also calls for lower doses of medications, so the risks are truly minimal.
"I see CT Fertility not as merely a 'bank,' but instead a long-term fertility solutions partner for women not necessarily struggling with current reproductive challenges. We understand that the decision to have a child — including when — is a highly personal matter," said Dr. Doyle. "We invite young women to safely choose and personally entrust our partners and us to provide and guarantee your long-term family-building goals. We offer fertility freezing candidates counseling and screening to recommend a suitable fertility preservation plan, and stand by over the long term to help each one achieve their parenting goals," he said. "If needed, our patients may benefit from a full range of innovative and creative treatment options that already helped create over 5,000 babies for parents from around the world."

Related stories:

About CT Fertility
Founded by Dr. Michael Doyle, CT Fertility specializes in Reproductive Medicine, Egg Donation and Surrogacy. Since 1991 CT Fertility has created over 5,500 babies for a diverse group of parents from around the world - including clients from over 30 countries, couples and singles, straight and gay, and spanning a wide range of ages. Based in Bridgeport, CT and New York City, and with satellite providers in London, Barcelona and Tel Aviv, the clinic achieves exceptional results by coordinating every aspect of the medical process, all under one roof, including the finding and pre-screening of highly qualified and immediately available local egg donors and surrogates.
CT Fertility services include basic fertility testing and treatments, IVF, ICSI, pre-implantation genetic diagnosis (PGD), egg freezing and banking, and embryo donation. CT Fertility operates one of the oldest and most established IVF laboratories in the USA, with state-of-the-art technology, equipment, protocols, and access to the most currently available genetic technology. Through the early mastery of the vitrification freezing technology and other protocols, CT Fertility has also established one of the largest and most successful Donor Egg Banks in the world.
CT Fertility personalizes the parenting journey by offering a wide range of treatment and egg donation options, taking into account your long-term family vision, ethical, legal and financial considerations, personal relationships and priorities, and coping preferences.