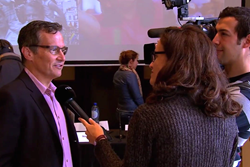 I think the unfavorable environment for European gay men who are seeking surrogacy parenting stems from lack of appreciation of the mutually affirmative and non-transactional relationships the exist between a surrogate and her intended parents in the US.
Bridgeport, CT (PRWEB) June 24, 2015
When he founded CT Fertility 24 years ago, Dr. Michael Doyle did not envision that his leadership role in the field of assisted reproductive technology would one day include social activism and the fight for the rights of parents-through-surrogacy internationally. But as his clinic has been helping a growing number of international and LGBT prospective parents, Dr. Doyle often finds himself opposing the critics of surrogacy and gay parenting, and advocating for ethical surrogacy practices. The most recent opportunity occurred on May 3, 2015 in Brussels at the "Parenting Options for European Gay Men" conference. CT Fertility was a Gold sponsor of the conference, and Dr. Doyle spoke there alongside the clinic's surrogacy coordinator, Colleen Iversen, who is also a two-time surrogate herself.
The conference attracted more than 200 prospective gay fathers from 10 countries, and also garnered intense media attention.
Unfortunately, there are still some prejudices about surrogacy in Europe, including the notion that compensating the surrogate and paying for the related medical and legal services amounts to "buying babies". "The environment in France and Belgium right now seems to be especially unfavorable for gay men who are seeking surrogacy parenting, due to a combination of concerns from the political left about possible exploitation of poor surrogates, lingering homophobia on the right, and a general mistrust of the perceived American commercial culture," said Dr. Doyle.
Indeed, during the 2013 marriage equality debate in France, the clinic's international reputation for helping gay men become parents has caused Dr. Doyle to be the target of repeated right-wing attacks in Paris. This time opponents of surrogacy staged a demonstration across the street from the conference, and RTBF, the major French language Belgian TV station, interviewed Dr. Doyle about the implied controversy. "I think these objections stem from a core lack of understanding of the ideal surrogacy practices that exist in the US," he said, "or lack of appreciation of the highly ethical, mutually affirmative non-transactional relationships the exist between a surrogate and her intended parents – straight or gay."
Since much of the controversy revolved around the supposed "exploitation" of the surrogates, special attention was given to the personal stories panel, where Colleen spoke alongside another surrogate mother and two European gay fathers. "I met Sam and Mark, the parents of the baby girls that I carried as a surrogate, when they were patients of CT Fertility," Colleen said. "Through my time as their coordinator I witnessed their struggle to have a baby, and we developed a friendship. I felt compelled to offer to become their surrogate... I knew that pregnancy was something that I was good at, and that my own family was complete."
Colleen then addressed the contentious issue of compensation, on which she has a unique perspective. "I didn't do this for financial gain... My first surrogacy was uncompensated. Going into our second journey, the parents and I had many conversations and they insisted on compensating me as a token of appreciation to my family, and professed that it would make them feel better." Several years later, despite living 8 hours of driving apart, the two families still often keep in touch. "Knowing that I forever changed the lives of one family has awarded me so much joy and fulfillment."
While the media coverage before the conference included some surrogacy critics, interviews such as Dr. Doyle and Colleen's contributed to a much more balanced and even positive coverage on the following day.
The Brussels conference was organized by "Men Having Babies" (MHB), an international nonprofit organization that provides guidance and financial assistance for current and future gay surrogacy parents. CT Fertility has been a leading supporter of MHB since 2009, and is a major contributor to the organization's Gay Parenting Assistance Program (GPAP). CT Fertility donated several IVF and egg donation services to eligible couples, and two of them are now expecting their babies later this year.
"We are proud to have been one of the first IVF clinics to welcome and proactively help gay men to become parents," said Dr. Doyle. In fact, about half of CT Fertility's present and former surrogacy and egg donation clients are LGBT couples and singles, a fact readily evidenced by the clinic's extremely high popularity on several independent ratings and review tables. Half of the clinic's clients also originate form outside the US and work with Dr. Doyle's highly organized global team in London, Barcelona, Tel Aviv, and Paris.
Dr. Doyle spoke on the expert panel of the conference, and later elaborated on the clinic's unique options for LGBT prospective parents at a breakout session. "We know that gay men appreciate our wide range of treatment and egg donation options, including unique features that are important for male couple such as known egg donors, a guarantee number of donor eggs across all programs, the popular unlimited surrogacy and egg donation package with PGS, and our unique 'freeze & hold' option", said Dr. Doyle. "But we also know gay prospective parents, like their straight counterparts, are primarily looking for a clinic that will provide safe, ethical treatments with truly exceptional pregnancy rate results." Indeed CT Fertility has just announced that official pregnancy rates for 2014 place it among the most successful fertility centers in the United States, with 84% of fresh IVF transfers involving egg donors and gestational carriers resulted in clinical pregnancies.