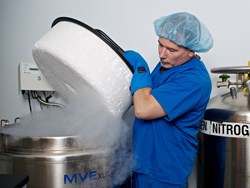 Our ability to successfully freeze and store unfertilized eggs prevents the need to create high numbers of excess embryos and allows parents to keep more options open until the outcome of their first embryo transfer is known.
Bridgeport, CT (PRWEB) August 26, 2013
CT Fertility, one of the leading fertility centers in the United States, is reducing the cost of its unlimited IVF package and adding another innovative feature that will further reduce costs, all as part of a larger approach that emphasizes flexibility and social responsibility with relation to embryo creation. The new "Freeze and Hold" option, which utilizes the clinic's advanced egg freezing capabilities, allows prospective parents to fertilize only a portion of the eggs they receive through their egg donation and freeze the rest until they know the results of the IVF treatment with the embryos they created. Later on they may decide to create additional embryos at markedly reduced cost with the same or different sperm source, or return the unused eggs for a refund. In addition, the clinic announced an additional 10% cost reduction of its popular flat-fee unlimited comprehensive IVF package in which prospective parents pay a one-time fee that includes everything—all medications and unlimited IVF and embryo transfers (fresh or frozen) until the intended parents are successful. Unlike most packages of this type offered by other clinics, CT Fertility imposes no restrictions on people who wish to only transfer one embryo at a time, so that parents who choose to be conservative because they wish to avoid twins are not penalized. "These announcements are in step with our ongoing commitment to give prospective parents who need IVF, donated eggs and surrogacy-related services more choice and control, while reducing the overall costs of their family building process," said Dr. Michael Doyle, the medical director of CT Fertility.
The new "Freeze and Hold" option takes advantage of the clinic's early mastery of the science and art of successfully freezing and thawing eggs using the rapid freeze (oocyte vitrification) technology. Still relatively rare in the industry, the technology, which was declared non-experimental last October, has been utilized for over six years by CT Fertility to build its highly successful Frozen Donor Egg Bank, and achieve ongoing success rates that are close to the national average for fresh eggs. "Our ability to successfully freeze and store unfertilized eggs prevents the need to create high numbers of excess embryos and allows parents to keep more options open until the outcome of their first embryo transfer is known," said Dr. Doyle. According to Dr. Doyle, most of his clients get between 15 and 20 eggs in a fresh egg donation cycle, and about 80% need just one or two embryos to achieve pregnancy. Even as some may use additional embryos later on for siblings, many still end up with a large number of unneeded embryos. The option of embryo donation in which these excess embryos are donated to other hopeful parents is emotionally, legally and ethically complex for most people, while donating unfertilized egg is not. These unfertilized eggs can simply be returned to the Egg Bank and used by other parents, awarding the first clients a refund of up to $5000. On the other hand, for those prospective parents who need to thaw those eggs for themselves to create additional embryos, either for their first baby or siblings later on, CT Fertility will freeze and thaw those eggs at no cost, and create new embryos at a markedly reduced cost. "We know there are inherent uncertainties in the IVF and egg donation process, but the good news is that egg freezing allows us to delay some of the most crucial decisions until some of the uncertainty is lifted," said Dr. Doyle.
Jamie Speer, the clinic's Egg Donation and Surrogacy Program Director, has consulted many prospective parents on their options, and reports that same-sex male couples are particularly interested in the new "Freeze and Hold" option. "When both partners want to be biological fathers, we fertilize half the eggs with each of their sperm samples," he explains. "If twins result – one baby from each dad -- which happens often, everyone is happy. However if only one embryo takes, the dads come back for a sibling cycle in the future, and wish to use only the embryos created with the sperm of the other dad. This means that typically half of the embryos they have in storage become irrelevant. The 'Freeze and Hold' option allows them to avoid 'committing' all the embryos to one biological father before they know how the first cycle turns out. They can now leave a third of the eggs, for instance, to be fertilized in the future only with the sperm of the dad who did not father the first child."
While adding the new option, the clinic will continue to provide several of the unique features announced last year. These include a guarantee for a minimum number of eggs across all applicable options, as well as automatic access to back-up eggs when needed (at no additional cost) — both are also features which CT Fertility is uniquely positioned to offer due to its advanced egg-freezing capabilities. The clinic will also continue to offer progressive discounts on frozen embryo transfers, where the cost of a third transfer, if needed, is reduced by 50%, and subsequent ones are free until the prospective parents have a baby or run out of embryos. The use of Comprehensive Chromosomal Screening (CCS), which is an advanced form of Preimplantation Genetic Diagnosis (PGD), is also offered by CT Fertility to dramatically increase their prospects for success by testing their embryos for chromosomal abnormalities before they are frozen.
Along with the Frozen Egg Bank, which allows patients to purchase as few or as many eggs as they need to achieve their specific family building goals, the new "on-demand" strategies for embryo creation can provide aggregate benefits to society as a whole. "Too many egg donations today are based on the 'more is best' approach in which every egg is fertilized from the beginning because when the eggs are harvested, no one really knows how many will fertilize, what the quality of the embryos will be, or whether pregnancy will even result," said Dr. Doyle. "This strategy works in the short-term but in almost all instances many extra embryos are created which lead to decisions — often very challenging — later on regarding what to do with them. We need to think of ways to make the limited supply of eggs better serve the growing number of people who will need them. Freezing eggs makes the family building process less expensive, more efficient and more socially responsible because we can use these eggs on an as-needed basis, create only enough embryos to meet each patient's needs, and provide strategies to avoid prematurely 'committing' eggs to become embryos by fertilizing them all from the onset."
•For more information about CT Fertility please visit http://www.CTFertility.com.
About CT Fertility
Founded by Dr. Michael Doyle, CT Fertility specializes in Reproductive Medicine, Egg Donation and Surrogacy. Since 1991 CT Fertility has created over 5,000 babies for a diverse group of parents from around the world - including clients from over 30 countries, couples and singles, straight and gay, and spanning a wide range of ages. Based in Bridgeport, CT, and with offices in New York City, the clinic achieves exceptional results by coordinating every aspect of the medical process, all under one roof, including the finding and pre-screening of highly qualified and immediately available local egg donors and surrogates.