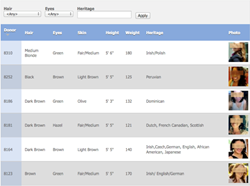 Instead of scripted talking heads, the videos often feature the donors' homes, pets, books, trophies, art projects, music collections, and more! We can think of no better way to let these young women express their talents, personality, and sophistication.
Bridgeport, CT (PRWEB) July 19, 2013
Given the challenges and long-term implications of choosing an egg donor, CT Fertility has long emphasized giving prospective parents as much information as possible about their donors, including strategies for donor matching and answers to all their questions. To make this process even more effective and personal, and recognizing the popularity of self-made videos, the clinic has invited its donors to create personal video introductions to share with prospective parents. "We considered asking the donors to sit in front a camera in a studio, but instead decided to trust their creativity and let them produce the clips on their own," said Dr. Michael Doyle, the founder and medical director of CT Fertility. "Several months later, looking at the dozens of videos which our donors have uploaded, we know that we made the right decision. Instead of scripted talking heads, the videos often include walk-throughs of the donors' homes, featuring favorite pets, foods, books, trophies, art projects, music collections, sporting activities, hiking spots and much more! We can think of no better way to let these young women express their talents, personality, and sophistication," he said.
The extensive profiles which prospective parents have been presented so far have already included a wealth of medical and personal information, photos, and short essays about their families, relationships, and decision to become a donor. Indeed, donor matches are never proposed to clients unless they have already survived rigorous medical, psychosocial, genetic, and legal screening. The clinic is also unique in having over 90% of its donors agreeing to forgo anonymity, which is the norm in almost all other clinics and agencies. Furthermore, the introduction of donor-created videos now allows prospective parents to get a good sense of the personality of the donors before they commit to a meeting. This is particularly important to the clinic's international clients and those from across the country. "Prospective parents are very appreciative of this new feature," said Lorrie Mirizio, CT Fertility's egg donor coordinator. "They find the videos even more helpful than a phone or even a Skype call."
CT Fertility takes pride in offering client immediate availability of a large pool of fully screened and potentially known egg donors, hundred of frozen donor eggs from its egg donor bank, and even embryos from their embryo donation program. The decision to move forward with egg donation can sometimes take months or years, and many clients find themselves without children later in life than they expected. It is therefore not surprising that once that decision is finally made, most patients want to proceed immediately. "They often come to us after being asked by other clinics to go on a waiting list for many months or even a year, to choose a donor based on very little to no information, and with very few assurances about her medical suitability or even availability," said Dr. Doyle. "We do not think they should forgo choice and full disclosure for the sake of speed. That is precisely why over the last twenty years we have worked hard to create a large pre-screened donor pool with absolutely no waiting list – while at the same time we offer full disclosure of the donor's profile and donation history, and even the ability to meet her in person."
Ms. Mirizio has also seen many patients who were disappointed by the availability and quality of egg donors in some outside agencies. "Despite the expectation that these agencies have many donors on their lists, people often wait for a long, long time. Since the vast majority are not yet screened, the number of qualified donors is much smaller than what you see on the website. Furthermore due to non-exclusive listings (sometimes a donor is on 10 websites simultaneously) many donors are no longer available, yet they are only taken off the list after someone asks for them."
Daphne DeAngelo, a former patient from CT, reported that she found CT Fertility after trying several clinics and checking out independent egg donation services. "I did not like the inflexible and protocols of the other places," she reported. "They would only describe the donor to you, and will only show another after you rejected the first. The independent agency led me to believe they had many donors and a large recruitment effort, but only showed me 3 candidates over 7 months." Jane Warren, a former patient from New York, reported that one Manhattan clinic explained that to match her with an egg donor she needed to create a 'wish list' of attributes, and they would try to find a match. They were not going to show her more than one option, and not even a picture. The other NYC clinic she tried was also going to provide very little information on donors: one photo and basic physical attributes (like eye and hair color). "I found CT Fertility and immediately clicked with Dr. Doyle," she recalls. With exhaustive medical history, full genetic analysis, long personal questionnaire and several photos, she was ready to proceed. "It was very important to me that they offered the most disclosure and a better sense of confidence about what you get," Jane reported. Jane, already in her early 40s, proceeded to have a son after a single embryo transfer at CT Fertility, and a year later a daughter from a frozen embryo transfer.

About CT Fertility
Founded by Dr. Michael Doyle, CT Fertility specializes in Reproductive Medicine, Egg Donation and Surrogacy. Since 1991 CT Fertility has created over 5,000 babies for a diverse group of parents from around the world - including clients from over 30 countries, couples and singles, straight and gay, and spanning a wide range of ages. Based in Bridgeport, CT, and with offices in New York City, the clinic achieves exceptional results by coordinating every aspect of the medical process, all under one roof, including the finding and pre-screening of highly qualified and immediately available local egg donors and surrogates.