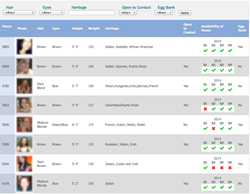 By adding candidates who can only donate during certain months –perhaps due to the cyclical demands of school– we have been able to more than double the overall number of available donors our parents can choose from.
Bridgeport, CT (PRWEB) March 27, 2014
CT Fertility, a leading IVF and egg donation center, launched a new version of their in-house egg donor database listing that includes the one-year availability of about two hundred medically pre-screened donors. While most US egg donation databases list donors without medically screening them or even confirming their availability, CT Fertility has always shown prospective parents exclusive, pre-screened and currently available donors. Indeed, 98% of clients, according to a multi-year satisfaction survey (see below), indicate that a large pre-screened donor pool with no waiting list was their top priority. "While our patients appreciate the guaranteed availability of our donors," said Dr. Michael Doyle, "prospective parents who also use a surrogate often wait at least six months until one is found. The last thing we want to do is add additional waiting time with donor selection so we encourage our parents to start looking at our database early in the process, to allow plenty of time to really get to know all their options and make the ideal choice." The new database includes donors with various availability during the next 12 months, including some whose soonest availability may be six months away. "By listing and offering these candidates who can only donate during certain months –perhaps due to the cyclical demands of graduate school– we have been able to more than double the overall number of available donors our parents can choose from, while allowing surrogacy clients to more effectively use their down-time," said Dr. Doyle. "I have always thought that in terms of the baby, the choice of the egg donor may be more crucial and have far longer term impact than the choice of the surrogate, the lawyer or even the doctor. Yet I often see surrogacy clients wait and wait until their agency has finally matched them with a carrier and their timeline has become more predictable, and then hastily look for a quick donor match. The good news now is that we are able to better support these clients in their efforts to plan more efficiently and less stressfully, by using waiting time at the beginning to focus on identifying and considering many more potential yet truly available donors."
Before the addition of quarterly availability to the clinic's selection tool, it already allowed clients to browse or select donors based on appearance, heritage, and whether they are open to meet or even stay in touch with them over time. Indeed, CT Fertility is unique in having over 95% of its donors agreeing to forgo anonymity, unlike most other clinics and agencies. Another popular new feature allows prospects to search for donors that have frozen eggs ready for immediate use. "Clients who want to move forward quickly are happy to see we have hundreds of frozen eggs from dozens of experienced proven donors," said Lorrie Mirizio, CT Fertility's egg donor coordinator. "Many others may prefer these same donors even for a fresh donation, knowing their fertility has been proven or that their frozen eggs could be used as a backup if the fresh cycle does not go as planned."
Given the challenges and long-term implications of choosing an egg donor, CT Fertility has long emphasized giving prospective parents as much information as possible about their donors, including unique personal video introductions that the clinic shares with prospective parents. "Often patients come to us after being asked by other clinics to go on a waiting list for many months, or to choose a donor based on very little verified information, and often no medical pre-screening. With such little to no assurances about her medical suitability or even availability, there is the huge potential for the match being broken, which costs more time, money and emotional energy," said Dr. Doyle. "We try hard to avoid surprises from matching, screening to treatment and even after. We offer a guaranteed number of eggs that clients get in each of our programs, full disclosure of the donor's profile and donation history, pictures, videos and even the ability to meet her in person. This all creates very high levels of trust and transparency."
The fact that the donors have all of their screening and monitoring done by the CT Fertility team, rather than outsourced at local clinics around the country, is the basis for the clinic's ability to make this guarantee. In fact, 96% of clients in the survey chose CT Fertility's "everything under one roof" design as a major advantage because the staff can really get to know each donor, identify and solve potential issues before they become problems, and assure quality control every step of the way. CT Fertility has conducted systematic feedback surveys among patients since 2011, and a sample of the results from well over a hundred people is shown below, along with excerpts from some in-depth follow up interviews.
Daphne DeAngelo, a former patient from CT, reported that she found CT Fertility after trying several clinics and checking out independent egg donation services. "I did not like the inflexible protocols of the other places," she reported. "They would only describe one donor to you at a time and will only show another after you rejected the first… The independent agency led me to believe they had many donors and a large recruitment effort, but in reality only showed me 3 candidates over 7 months." She added that in her experience, these large national databases are not organized or run by doctors, list women who register online on multiple other sites at the same time so are seldom available when you want them, and if they are, many still don't passed the required screening tests."
Jane Warren, a former patient from New York, reported that one Manhattan clinic explained that to match her with an egg donor she first needed to create a 'wish list' of attributes, and that they would then try to find a match. They were not going to show her more than one option, and not even a picture. Another NYC clinic was also going to provide very little information on donors: one photo and basic physical attributes. "I found CT Fertility and immediately clicked with Dr. Doyle," she recalls. "It was very important to me that they offered the most disclosure and a better sense of confidence about what you get." Jane, already in her early 40s, proceeded to have a son after a single embryo transfer at CT Fertility, and a year later a daughter from a frozen embryo.
Tania Odell from NJ put the emphasis in her interview on speed of the matching, the option to meet and know the identity of her egg donor, and keeping the entire process under one roof. Also in her 40s, Tania came to CT Fertility because she wanted her donor to be recruited, screened, monitored and treated by the same team, and the option to be matched with an experienced known donor. It was great to meet the donor, to see how much she was like me – personality-wise even more than physically, her way of coping and thinking." Tania had her daughter in September 2011, and is considering coming back for a sibling this summer.

About CT Fertility
Founded by Dr. Michael Doyle, CT Fertility specializes in Reproductive Medicine, Egg Donation and Surrogacy. Since 1991 CT Fertility has created over 5,000 babies for a diverse group of parents from around the world - including clients from over 30 countries, couples and singles, straight and gay, and spanning a wide range of ages. Based in Bridgeport, CT, and with offices in New York City, the clinic achieves exceptional results by coordinating every aspect of the medical process, all under one roof, including the finding and pre-screening of highly qualified and immediately available local egg donors and surrogates.