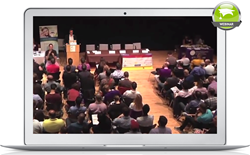 For those intended parents who are considering IVF, egg donation and surrogacy, our goal is to help them make informed decisions regarding issues that have complex emotional, moral and financial implications.
Bridgeport, CT (PRWEB) June 17, 2014
Beginning in July 2014, CT Fertility will be offering two monthly webinar series featuring Dr. Michael Doyle, the clinic's IVF lab staff, nursing team and various guest speakers. One series will be held mid-day and is primarily geared at professionals in related fields, and the other will be offered in the evenings. Given the complexity and dynamic nature of reproductive technology, CT Fertility already puts considerable emphasis on fully informing each client about their choices, and partnering with them to find the treatment options that would best suit their circumstances and desires. Dr. Doyle has also been helping educate prospective parents as a speaker at numerous seminars and via several "Ask the Expert" forums. The added advantages of this interactive multimedia webinar format will now allow an even broader audience to access expert advices on IVF, egg donation and surrogacy using a computer, tablet, smartphone or even conventional phone line. For those who cannot attend live, the sessions will also be archived for later viewing.
The "Lunch & Learn" series will debut on July 9, 12:00pm EDT with a session on "Genetic Screening of Embryos - the state of the art techniques and science behind blastocyst biopsy." Subsequent sessions will follow on the second Wednesday of each month. The mid-day timing will allow professionals and prospective parents who live in central or eastern parts of the U.S. to tune in during a lunch break, while also be convenient for Europeans and others living further east to join the webinars during their evening hours. Using the market leading GoToWebinar platform, a group can attended the sessions at a conference / lunch room, or individuals can join at their office desk, homes or even using mobile devices while on a park bench. The topics for this series have been chosen to allow people with some knowledge in the field to expand and clarify their understanding in particular issues of concern. Indeed this series was fundamentally created in response to requests from partnering surrogacy agencies, law firms and community organizations for a professional training and development program for their staff. Future topics will include "The Latest on Egg Freezing" (August 13), and "Understanding IVF Success Rates and Statistics... and What Drives Them" (September 10).
The "Ask the Expert" series will debut on July 23, 8:00pm EDT with a session which will address how many embryos should be transferred at a time, and the risks of multiple pregnancy. Subsequent sessions will be offered on the fourth Wednesday of each month. This evening series is primarily aimed to provide answers to prospective parents in specific areas of interest, including some that are rarely addressed at generic informational seminars. Each session will be 45-60 minutes long, and will include at least 20 minutes for questions and answers. "For those intended parents who are considering IVF, egg donation and surrogacy, our goal is to help them make informed decisions regarding issues that have complex emotional, moral and financial implications," said Dr. Doyle. "We hope our online seminar format will also be helpful for people who are reluctant to attend public seminars due to privacy concerns, yet would like an opportunity to ask follow-up questions and interact with the presenter." Future topics will include "Considering Embryo Donation and Other Alternatives for Unused Embryos" (August 27), and "Turning to Friends or Family for Egg or Sperm Donation" (September 24).

About CT Fertility
Founded by Dr. Michael Doyle, CT Fertility specializes in Reproductive Medicine, Egg Donation and Surrogacy. Since 1991 CT Fertility has created over 5,500 babies for a diverse group of parents from around the world - including clients from over 30 countries, couples and singles, straight and gay, and spanning a wide range of ages. Based in Bridgeport, CT, and with offices in New York City, the clinic achieves exceptional results by coordinating every aspect of the medical process, all under one roof, including the finding and pre-screening of highly qualified and immediately available local egg donors and surrogates.
CT Fertility services include basic fertility testing and treatments, IVF, ICSI, pre-implantation genetic diagnosis (PGD), egg freezing and banking, and embryo donation. CT Fertility operates one of the oldest and most established IVF laboratories in the USA, with state-of-the-art technology, equipment, protocols, and access to the most currently available genetic technology. Through the early mastery of the vitrification freezing technology and other protocols, CT Fertility has also established one of the largest and most successful Donor Egg Banks in the world.
CT Fertility personalizes the parenting journey by offering a wide range of treatment and egg donation options, taking into account your long-term family vision, ethical, legal and financial considerations, personal relationships and priorities, and coping preferences.